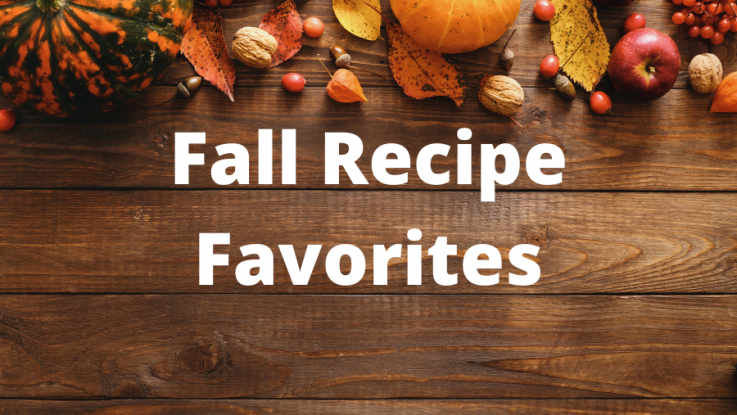 Ahhh Autumn! Fall! The crunch of the leaves on the trails, the changing colors of the trees, the magnificent smell of campfire in the air early in the morning and the golden sunsets through the ever changing colors of the leaves in the evenings. For our family, autumn marks the START of our camping season! Yes, we are a fall and winter camping family. When October hits, that's when we get the RV ready (and sometimes, even the tent) for all things adventure and hiking. This year, we were SUPPOSED to head out towards Utah to check out the Moab area but, 2020 had other ideas unfortunately. Nonetheless, we have planned other camping trips on the Eastern side of the US, which means I start planning all of the cozy, delicious meals we can have on the road! As simple as it sounds to just pack some hot dogs and burgers, I like to get creative even if the kitchen is outside, over the campfire (or in the RV of course)!
Fall Foods
Nothing says fall like cozy bowls of piping hot soups, chili, squashes galore and all things pumpkin of course! Sounds delicious right?! I LOVE all of these but, some of these meals can translate into heavy or potentially unhealthy ingredients, so I choose to make meals that are still scrumptious but will provide us with the nutrients we need to keep us on the right track when it comes to our health, plus provide us with the energy to go on any hiking adventures.
There are SO many options to make your casseroles, soups and chili a step towards the nutritious and healthy side like: Using ground turkey instead of beef for chili, adding vegetables like zucchini to it as well, substituting plain greek yogurt for sour cream, using light cream instead of heavy cream (or even greek yogurt mixed with milk), making cauliflower mash or mashed sweet potatoes instead of starchy russet potatoes, using protein based or multigrain bread in your stuffing, using quinoa or brown rice instead of white rice. The options and substitutions are endless!
Below are some of my personal favorites for fall and they all are packed with the nutrients you need to make this season a healthier one! Safe travels and happy eating!
**Note that where it states the use of an oven, you can always use a campfire instead if you don't have an oven available (this is where cast iron pans or aluminum foil come in handy). Also, be sure to adjust the temperatures as needed if you are using your RV oven since propane ovens can run a bit differently. Each recipe makes about 4 servings.
Honey Roasted Sweet Potatoes and Acorn Squash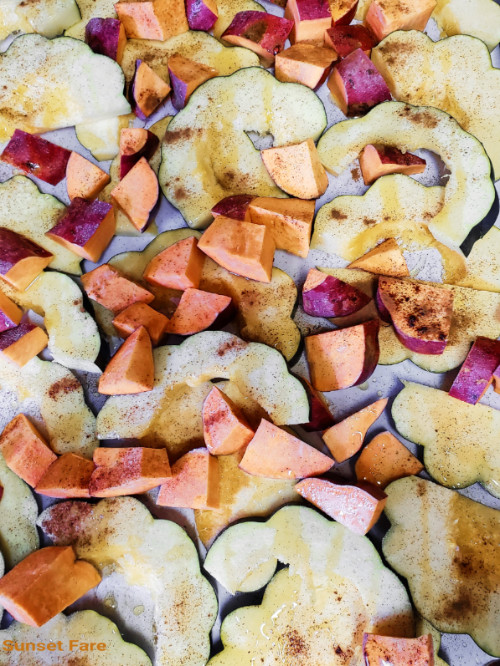 INGREDIENTS
2 Large Sweet Potatoes – When I say large, I mean LARGE, so feel free to use 3 or 4 medium sized ones.
3 Acorn Squash
1 Tbsp Olive Oil
.5 tsp Sea Salt
1 Tbsp Ground Cinnamon
3 Tbsp Honey
INSTRUCTIONS
First, wash/scrub the outside of the sweet potatoes and acorn squash to remove any dirt or impurities from the skin.
Prepare your large baking sheet with parchment paper.
Preheat your oven to 385°F
Next, cut your sweet potatoes into large dice, place in a large bowl.
Cut the bottom and tops of your acorn squash (this gives it a stable surface to cut) then cut it in half. Remove the seeds with a spoon (you can save these and roast them too. Set to the side if you are saving them) Slice the acorn squash (cut side down) into half moon slices, add to bowl.
Pour olive oil and salt onto the potatoes and acorn squash and mix well (I always find that my hands work better in the mixing part)
Now add in your honey and cinnamon, mix again.
Spread the mixture onto your prepared baking sheet, place in the oven and bake at 385°F for about 40-45 minutes, stirring halfway during roasting. Bake until your potatoes and squash are tender (squash may become tender faster so be sure to also use a fork to check your potatoes) Remove from the oven and enjoy!
Quinoa Pilaf with Roasted Pecans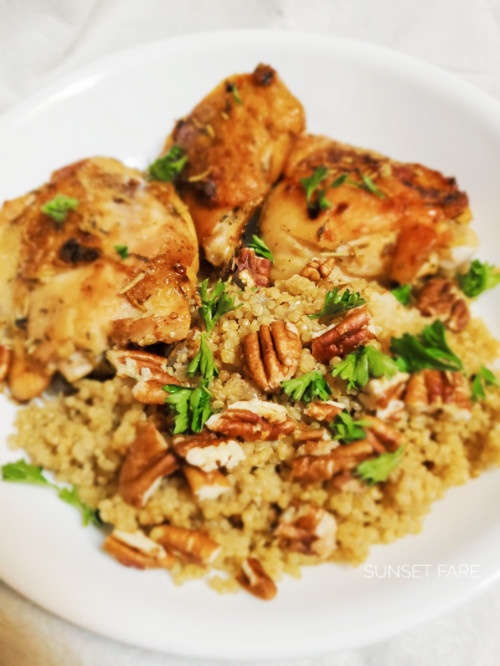 INGREDIENTS
1 1/2 Cups Quinoa Do NOT rinse
1 Tbsp Olive Oil
3/4 Cup Diced Shallots
2 Cups Chicken Stock Or Vegetable Stock
1 Tbsp Parsley, finely chopped
1/2 tsp Each Salt and Pepper
1/2 Cup Toasted Pecans
INSTRUCTIONS
Heat a medium saucepan over medium high heat, add in oil. Once oil is not (not smoking), add in shallots. Sauté for 1-2 minutes, until the shallots are slightly translucent and soft.
Next, add in the dry quinoa to the shallots, stir and toast for 1-2 minutes, until the quinoa starts to pop a bit and releases its nutty scents and flavor.
Carefully add in stock, salt and pepper and bring to a boil. Once most of the liquid has been absorbed, lower heat to medium low (or a slow simmer) and cover. Let cook for about 20-25 minutes or until the rest of the liquid has been absorbed and quinoa is tender. Remove from heat and fluff with a fork.
While the quinoa is cooking, place a small frying pan over medium heat. Add in the pecans and toast for about 2 minutes, stirring frequently. Once the pecans are toasted, remove from the pan and roughly chop them (if they are whole).
Serve the Quinoa, topped with pecans and parsley.
Roasted Garlic and Butternut Squash Soup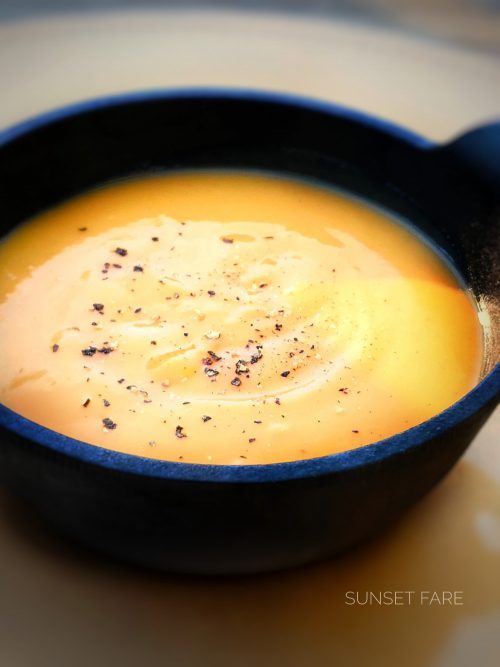 INGREDIENTS
1 large butternut squash
1 head of garlic
¾ Cup shallot, diced
2 tsp Olive oil
3.5 Cups Chicken Stock (unsalted)
1-2 Cups of Water
¼ tsp each salt and pepper
⅛ tsp nutmeg
INSTRUCTIONS
Preheat the oven to 375°F.
Cut squash, lengthwise, remove seeds.
Drizzle the inside with 1 tsp olive oil and place on a baking sheet, cut side down.
Trim about ¼" from the top of the head of garlic to expose the cloves, drizzle with ½ tsp olive oil and wrap in foil, place on the same baking sheet.
Bake, uncovered for about 45 minutes or until the squash is soft enough to spoon out.
Heat a soup pot over medium heat and add the rest of the olive oil.
Add the diced shallots and saute until they are soft and translucent.
Once the butternut squash is cooked, scrape out the pulp into the pot and discard the skin. Squeeze out the garlic into the pot and adjust heat to medium low.
Add the salt, pepper, nutmeg and chicken stock and ½ cup of water, bring to a simmer, stirring occasionally. Let cook for 15 minutes.
Using an immersion blender or food mill, blend until smooth (*If you choose to use a blender instead, make sure you cool the soup a bit, remove the cap from your blender and only fill halfway. Use a kitchen towel to loosely cover the top as you blend on low. Alternatively, you can also use a whisk if you don't have any of the above items available, just make sure that the vegetables are VERY soft). If soup seems to thin, add an additional ½ cup of water until you reach the desired consistency. You can top with a drizzle of olive oil if you choose.
Loaded Potato Leek Soup
INGREDIENTS
1 Tbsp Unsalted Butter or Olive Oil
2 large leeks (white and part of green parts only), roughly chopped
*Be sure to thoroughly rinse your leeks under running water to wash out any sand or dirt
3 Cups Yukon gold or yellow potatoes (peeled and diced)
3 cloves of garlic, peeled and roughly chopped
½ tsp Salt
4 Cups of low sodium vegetable stock
½ tsp white pepper
½ Cup Light Cream
Optional Toppings: Cooked turkey bacon, chives, shredded cheese, Plain Greek Yogurt
INSTRUCTIONS
Heat a soup pot over medium heat and add the butter (or oil). Add in the leeks and stir occasionally until leeks are soft but not brown. Halfway into cooking, add the garlic.
Add the potatoes, vegetable stock, salt and pepper to the pot and bring to a boil. Lower heat, cover and simmer for about 15-20 minutes or until the potatoes are soft.
Using an immersion blender or a food mill, blend the soup until smooth (*If you choose to use a blender instead, make sure you cool the soup a bit, remove the cap from your blender and only fill halfway. Use a kitchen towel to loosely cover the top as you blend on low. Alternatively, you can also use a whisk if you don't have any of the above items available, just make sure that the leeks and potato are VERY soft)
Add the cream and bring soup back to a low simmer, mixing often. If the soup is too thin, you can add a small amount of the cream and simmer until thickened. Taste and adjust seasonings if needed.
Garnish the soup with any of the optional toppings.
Yvette Rodriguez is a US Air Force Veteran, Nutritionist and Personal Trainer who found her love for the outdoors after her first camping trip.  Since then, she has found ways to combine all of these passions and brings them together on her blog Sunset Fare.  She recently self-published a cookbook geared towards RVers and campers.  Yvette enjoys camping and RV trips with her husband, cat and dog, always with a camera and spatula in hand!