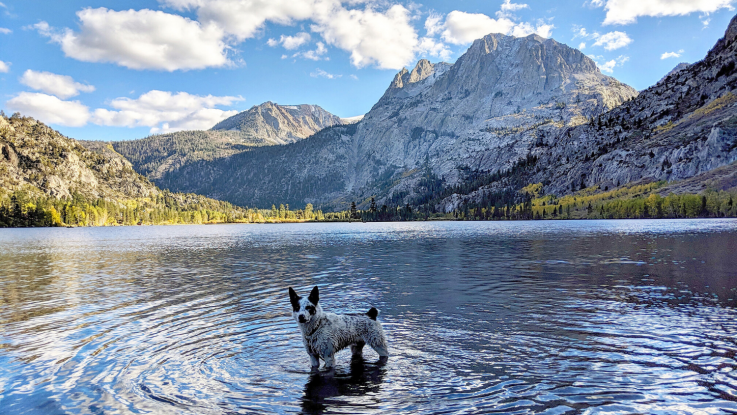 We meandered down the California stretch of highway 395 at what I would say is the perfect time of year to visit: September-November.  The weather was cool and perfect for hiking with dogs, campgrounds were empty, summer tourists had already left, and winter tourists were still waiting for snow.
We had been staying in the San Francisco bay area, so we headed toward the south end of Lake Tahoe to start our journey down the 395, right where it crosses from Nevada to California.
**Protip:** Gas in California is notoriously expensive, so before heading south, we took a slight detour to fill our Class A's 150-gallon diesel tank across the border in Nevada.
South from Lake Tahoe, all the way until you hit the desert, most RV parks close for winter around October.  If you are not comfortable with primitive campgrounds and boondocking, make sure to have reservations.  Many campgrounds will also shut off water faucets early, while dump stations stay open longer.
**Side note:** Our eventual destination was Palm Springs, and we would recommend you too swing east to avoid the mountains. Big Bear Lake can be nice but I wouldn't take a big RV up there.
Mono Lake

Our first stop did not disappoint!  We explored Mono Lake in all its otherworldly, stinky, glory.  Especially Mushy, his nose kept going the whole time.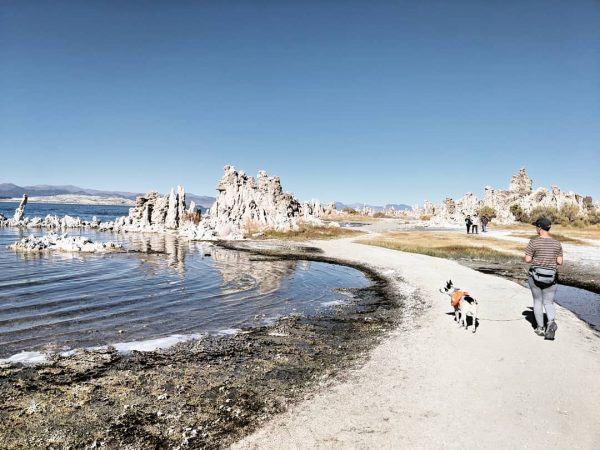 **Did you know:** Yosemite Valley is roughly a 1.5-hour drive from Mono Lake.  Since we had already visited Yosemite a few years back, we decided not to take the detour.  If you go, research the drive ahead of time, as there are sections that are steep and winding.  Some portions of the road have an 8% grade.  The road also closes in winter.
Mammoth Lakes
Mammoth Lakes is a very touristy ski town. As such, it has many restaurants and laundromats relative to its size, and while Tommi especially is no fan of tourist traps, it was a great experience outside the season.
The local water company has a $10 dump station built in a loop that can be a little tight for big rigs.  We watched a huge fifth wheel have trouble making the turn, and our 38′ motorhome needed one extra wiggle to make it out from the loop.
While visiting the Mammoth Lakes area we chose to stay at Glass Creek Campground. In October, the place was close to empty! We've heard it can get crowded in summer.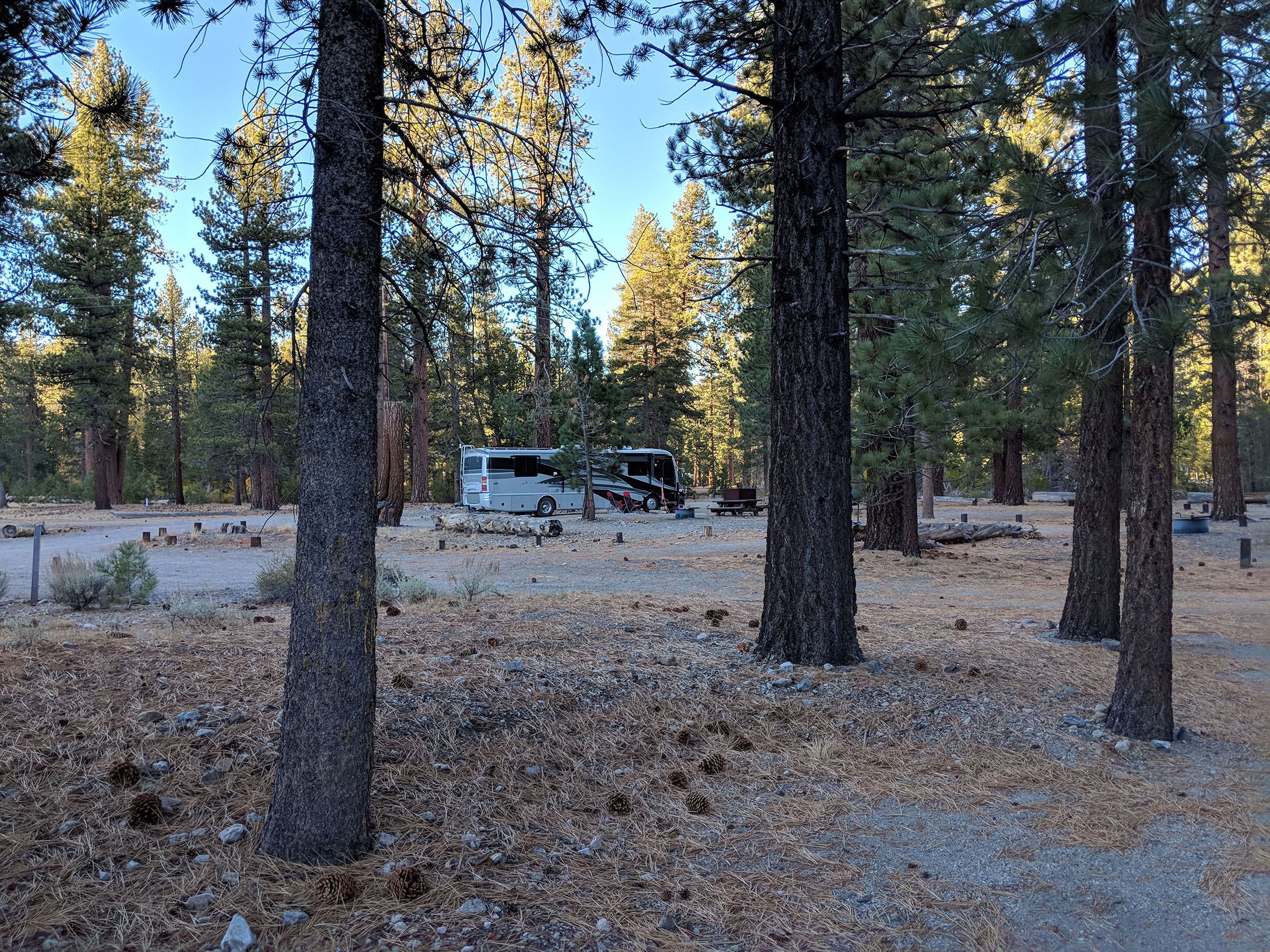 The back of the campground connects with a handful of forest roads that were great for dog walks.  Dogs with high prey drives will need to be always on a leash, though — there were chipmunks everywhere.
Close to Glass Creek Campground is a geological oddity named Obsidian Dome that is worth a visit.  Wear sturdy shoes and prepare your offline GPS map.  And yes, dogs can go!
We loved hiking in the Mammoth Lakes area.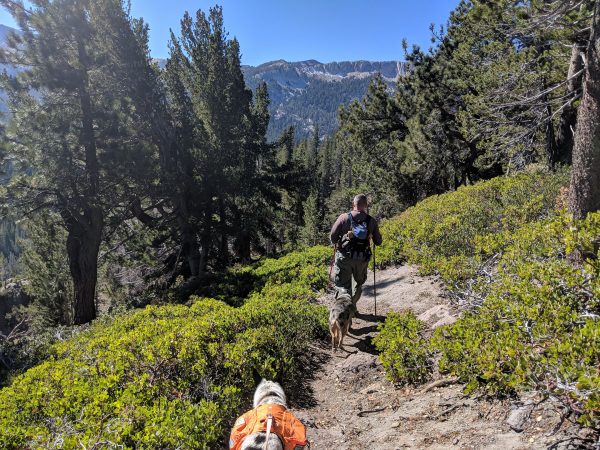 And Mushy loved all the options for a quick dip!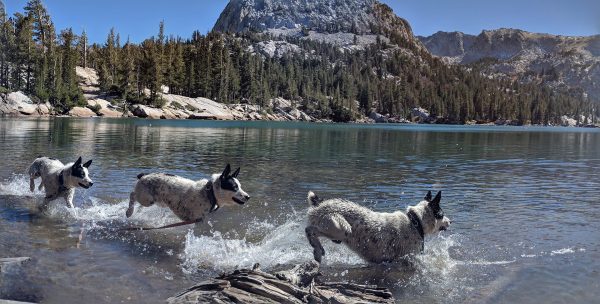 East of Mammoth Lakes there are at least a dozen hot springs. We highly recommend you seek out one of them for a nice soak. Wild Willy's is one of the easier to find ones, so we agreed to meet some friends there.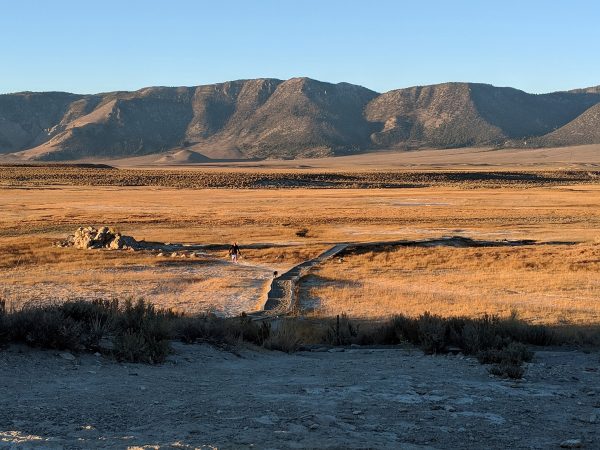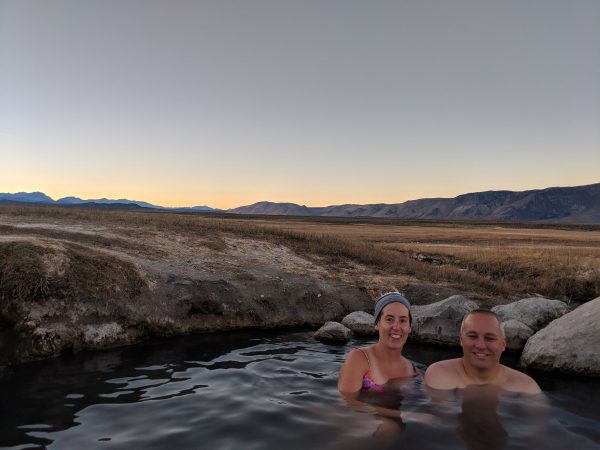 Overall we loved the Mammoth Lakes area.  We were sad we couldn't see Devil's Postpile (the access road was closed due to road paving), but that leaves us something new to see the next time we're in the area.
We eventually left Mammoth as it started to get too cold, around the second half of October.  The stream that the campground is named after had a layer of ice on it most mornings.  And to seal the deal, we heard the campground was closing for the season.  It was time to head south.
On your way south toward Bishop, you'll encounter a looong downhill grade. South of that, the weather will immediately be much warmer — just make sure you know how to do engine braking, to get there safely.
Bishop
On this trip, we just drove through Bishop but it's worth a stop.  Make sure you get some goodies at Schat's Bakery!  Bishop is widely known for it's annual Mule Days event, a fun family stop if you're visiting over Memorial Day weekend (the town sells out though, so plan ahead!)
Alabama Hills
We found a great boondocking spot at the Alabama Hills in Lone Pine and ended up staying 2 weeks.  We loved this area so much — you can read about our stay in detail here.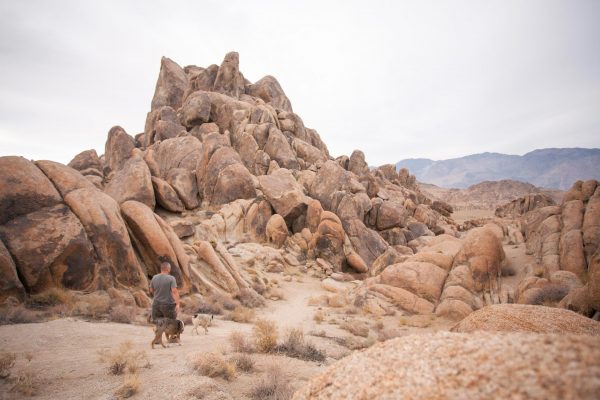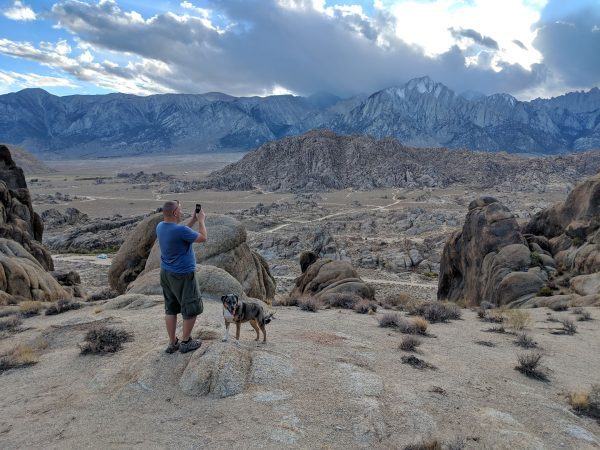 Since we were boondocking we used Tuttle Creek Campground to dump and fill.  The speed bumps on the entrance road mean business, take them slow or break something!  The road in was a bit narrow, it probably has just enough room for two class A's to pass, but you might scrape bushes to make that happen.  Tommi drove ahead with the Jeep to make sure I had a clear path.
Cell signal around Alabama Hills can be challenging. We found a spot with the magic combination of being able to level a class A and getting a good enough AT&T signal, but if you're not having much luck, we hear the cell signal at Tuttle Creek Campground is much better.
Whitney Portal
Whitney Portal is a camping area at the base of Mt. Whitney, the highest peak in the continental United States.  The road up to the campground is pretty steep.  We did see a few Class A's up there but I'm sure it was a slow drive!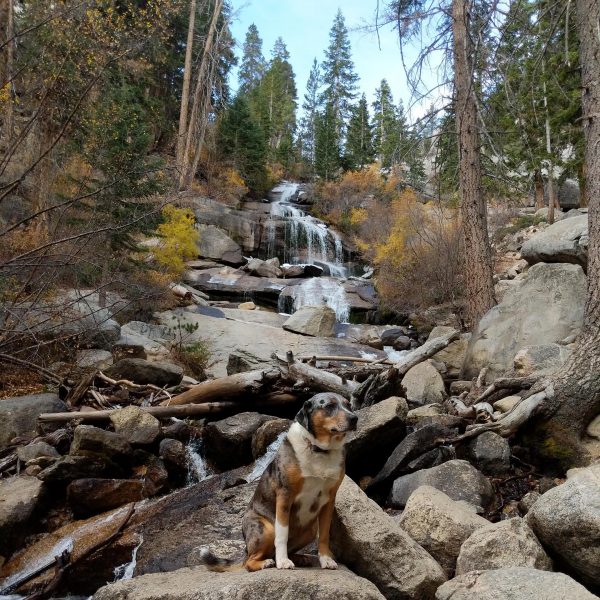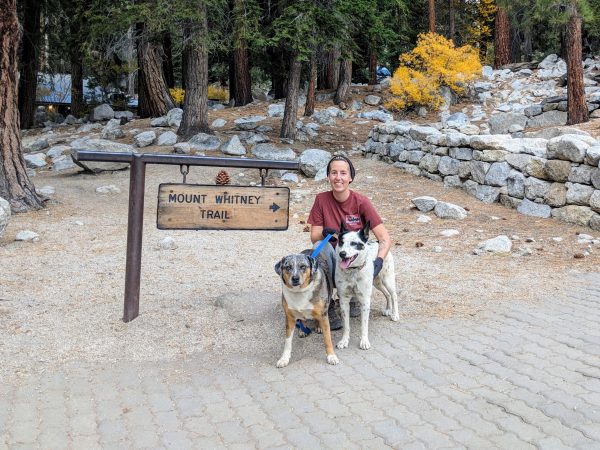 We didn't get to try it but we would recommend you go with an empty stomach and eat at Mt Whitney Portal Store.
California City
Heading further south, if you're comfortable exploring unmarked desert, go seek out the remains of California City.
Ridgecrest
We used Ridgecrest as a basecamp for errands and vet visits. The city had everything you may need to restock: Walmart, propane, laundry, and an awesome Mexican place with great veggie options we did take out from too many times.
For boondocking, there's a large BLM area about a 20 minutes southeast of town, with multiple campsites and endless desert mostly used for off-roading.  You will need a bit of luck to avoid engine noise, but we had enough friends camping with us that we managed to take up one whole clearing, so most off-roaders were miles away.
Oh and watch out for those railroad crossings, if you drive full speed into that one particular crossing, you'll feel like you blew a tire.  You'll know which one I mean if you find it.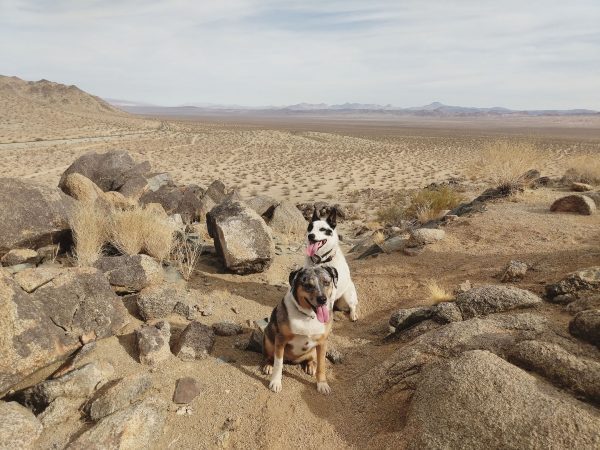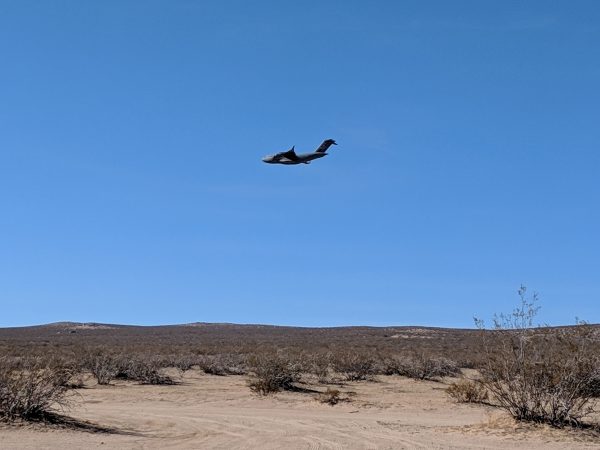 Trona Pinnacles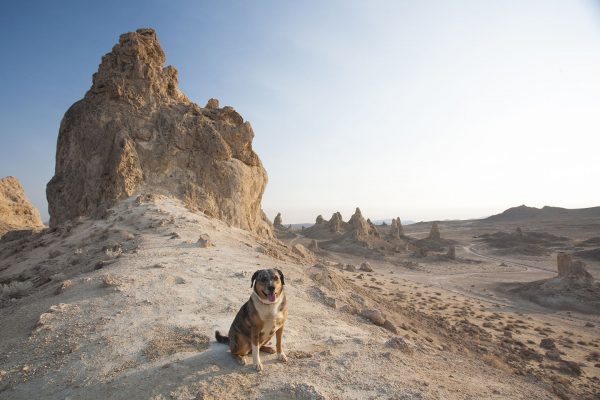 A must-see! The Trona Pinnacles are tufa spires (some as high as 140 ft!) that rise from a dry lake basin.  We had an amazing day trip here with the dogs and took tons of photos.  The area is managed by BLM and allows camping.  The entry road is quite washboarded.
Sawtooth Canyon BLM Campground
We spent our Thanksgiving with friends at the Sawtooth Canyon Campground, just south of Barstow. Plan to arrive before dark (we didn't, and very nearly got lost scouting inside the campground) and make sure you park in a designated space.  Cell signal here is spotty, but often improves a lot by simply going around one large rock. There are limited sites, and this area is popular with rock climbers, so good luck!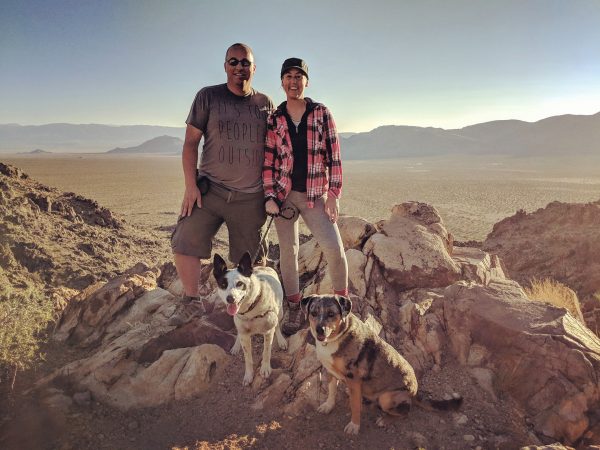 US 395 is on our repeat list
California's section of highway 395 was a great experience for us, and perhaps even our favorite slice of California.  We'll definitely be camping and exploring further next time we're passing through.
Have you traveled on CA's US 395?  What was your favorite stop?  Let us know in the comments below!
Ane and Tommi, F462447, of The Dog Is Driving love how RVing allows them to go on adventures with their rescue dogs: Mushy and Lily Goodgirl. They were full-time RVers for nearly three years before transitioning to part-time RVing. Read their experiences and campsite reviews through a pet-friendly lens on Instagram and TheDogisDriving.com.