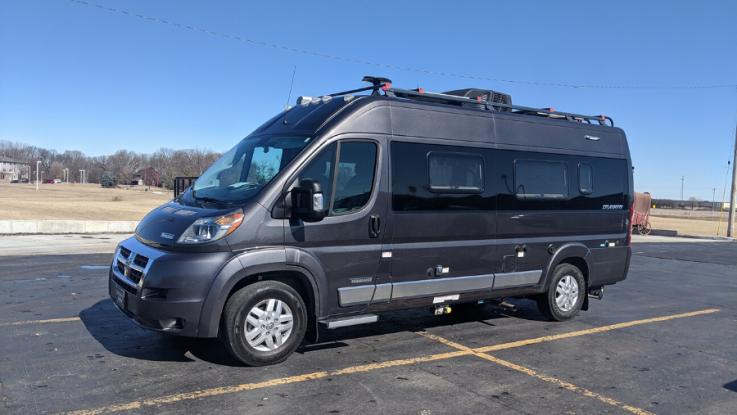 Choosing a dog-friendly Class B
We are no longer full-time RVing, and as part of that transition we downsized from a diesel pusher class A motorhome to a class B van. As you may have already noticed, our lives often revolve around dogs. Here are our thoughts on picking a campervan ideally suited for us and our dogs. The opinions below are, naturally, opinions, and you should find the RV with the floor plan and features that work for you.
Finding the Goldilocks zone
First, we had to decide the big picture. In terms of rig size, we knew we wanted "any grocery store parking lot, any gas station" small. We knew we didn't want a pickup camper shell, for many reasons but also just simply because the high steps looked like a bad idea with medium-size dogs.
Starting out, we looked at the B+/small C size range for a while, and seriously thought about an LTV Unity with a murphy bed. We ruled out class C's in general because they're mostly still in the "we'll need to tow a car" size range, and the smaller murphy bed units because it seemed like there was almost no room to move around with the bed down. In the other direction, we ruled out the 19-foot Revel as likely too small and spartan for us to enjoy it, especially for seating. We finally settled at looking at vans roughly 21 feet long: long enough to have enough room inside, short enough to spill out from a single parking space by only a few feet. In practice we mostly park overlapping two spaces, but it's very nice to not have to do that.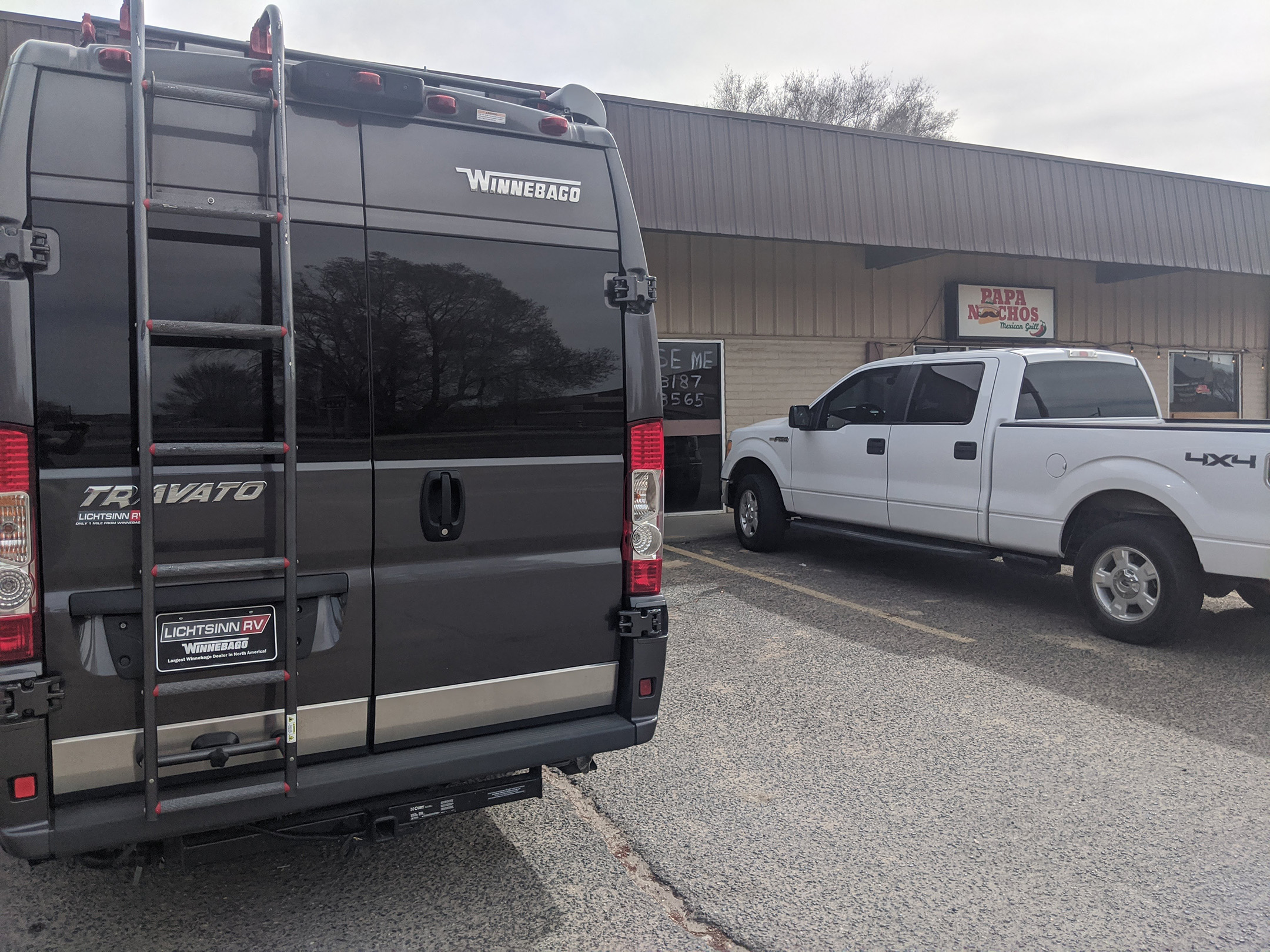 A good bed is a must
Since we truly value our sleeping comfort, we felt we didn't want a floor plan with a rear sofa that reclines into a bed. There was just no way all those cushions would form a smooth surface. We also weren't keen on the idea of needing to waste storage for bedding, or making the bed every night. For a long time, we thought we were going to pick the Travato 59G with a corner murphy bed. It had a great floor plan for being able to store things under the bed, while keeping the rear door usable. This went as far as figuring out details like how the 2019 model had switched away from a propane fridge — a detail I (Tommi) really liked.
Reading other people's experiences about the 59G ultimately convinced us that the corner bed was not for us. It was simply too high for our dogs to jump up on their own, and our dogs are too heavy to lift up regularly (I already have to scoop up our 65+ lbs Lily to get her into our lifted Jeep, that's enough). If you have only lap-size pets, that would look very different. For us, even if we forced the dogs to always sleep on the floor, they'd likely pile up right underneath, exactly where you need to sort of slide down from the tall bed, and there would be many tails stepped on. And with our latest addition, we now have three dogs in the 50-65 lbs range — they take up a lot of room, and at least one of them would be pretty much guaranteed to be right there.
Twin beds it is
Given all the above, we ended up wanting a floor plan with twin beds and an aisle in the middle, even if it meant that the rear doors opened up comically right to the pooper.
Most vans with twin beds convert into one big bed by propping a table surface in the middle, but I doubt we'll ever do that. We like our night time routine to be short & simple, just like our arrival/departure routines.
We plan on leaving our bedding in place during the day, covering it up with a day cover of some sort, and at night letting the day covers double as dog beds on the floor.
Decision time: 2019 Travato 59K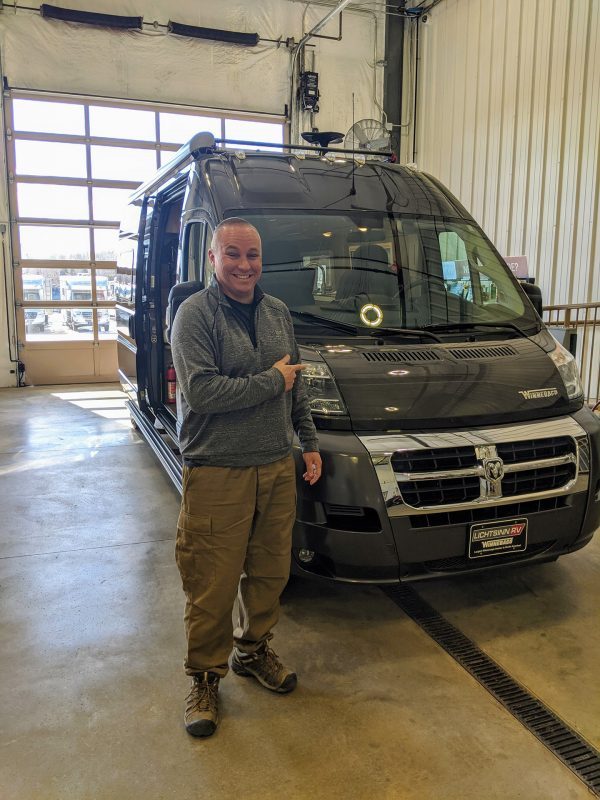 Scouring reviews, we picked the Travato 59K, and then chose the model year 2019 or newer because of all the extras they had made standard. The newer models are even more dog-friendly: starting with 2020.5, the running boards have loops for attaching a leash to. We decided to let someone else take the hit of the first year price drop though, and shopped for lightly used rigs.
To save costs and because we're no longer fulltiming, we opted to avoid the Volta lithium system. No lithium means no running the AC if we leave the dogs in a parking lot, though. We'll put in lithium batteries as a DIY project later if we need them for that use case. For normal use, we expect to be much more mobile than with our class A, so we believe we'll mostly charge by driving. And we have solar for the basics and a generator when we need it, if we stay parked for longer.
To give an idea of how much we're liking the 59K, one of the biggest downsides for us seems to be that the exterior shower isn't plumbed for hot water, and thus any muddy dogs will be rinsed with cold water. That's not a huge compromise.
We found a used 59K with some options we really liked: heated tanks and awning windows. Tank heaters ("heated drainage" in Winnebago terminology) help in the winter, and 2019 Travato fresh water plumbing is already inside the rig, to protect against freezing. Awning windows let us have windows open even in heavy rain, and can be securely locked while still slightly open. Similarly, the Travato ceiling fan has a rain cover and can be left running in the rain. One quick 1,300-mile road trip later, we now have the van, and the dogs are slowly getting familiarized with it. We're starting to get answers to some of our  questions through experience.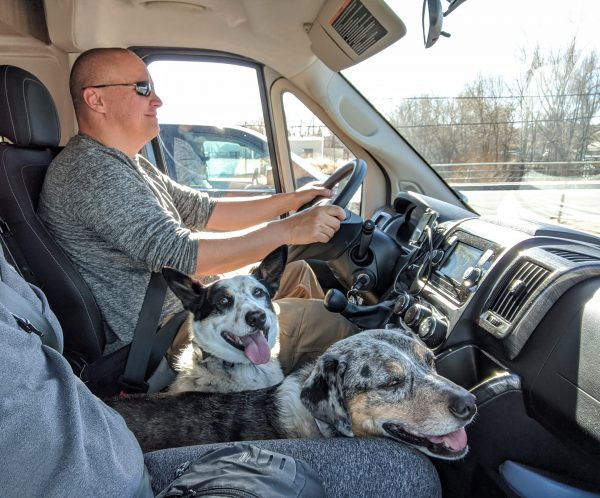 #1: Side door entry/exit is going to work just fine
I wasn't sure how the door was going to play out, but I think the dogs will be perfectly fine using it, and behaving themselves when the door is opened.
Delta is still in the process of learning about waiting, and he's slippery like a weasel if he tries to force his way out, but he's making great progress on his patience.
#2: The aisle is wide enough for the dogs to turn around in
We were sort of concerned the dogs might need to "reverse out" of the aisle, but they all seem to be able to turn in that space if needed. They also can walk past each other, and we can walk around / over them if they stand or lay in the aisle.
#3: The dogs can jump up on the beds easily
Our dogs don't, at least so far, jump up on the beds from the aisle. One of the beds ends at the kitchen cabinets, so there's not a great place to jump up there. The other bed is free from obstructions and the dogs get up there, and then easily step across the aisle to be on whichever bed they want.
#4: The floor is slippery
Our Travato has vinyl flooring, and it's uncomfortably slippery for the dogs. The second time Lily jumped in through the side door, she slid across and almost into the kitchen cabinets. We found $8 hardware store doormats that are unobtrusive, the perfect size, and easy to cut where needed. We covered the floor with them, and the dogs seem much happier.
#5: Finally an exhaust I don't have to worry about
Our class A had a prominent exhaust in the rear passenger side corner, and the generator exhaust was in the front on the driver's side. I always worried that some careless dog was going to singe their ear when we walked the dogs immediately after driving, and the area near the generator exhaust was Mushy's favorite lounging zone.
On the Travato, both exhausts are on the driver's side, away from areas where the dogs are likely to be. They'll also be less accessible to the dogs just because I doubt the dogs will crawl under the van, as there's much less room. Mushy is going to be bummed he lost his private basement room, though.
#6: Lily wants to ride with us, the boys are more okay on the bench seats
Lily tends to lay between the two front seats when we're driving. This was also where she rode in the class A, and in the Jeep she typically stands on the middle console at least part of the way. She's a people dog, and wants to be near us.
If there's no human passenger, Lily will often jump on the passenger seat to see out. (And about a quarter of the time, triggers the seat belt reminder.) In the class A, she'd sometimes ride in the passenger's lap, all 65+ lbs of her. She wanted to get her sniffer out the side window. I don't think we can allow that anymore, with the shape of the van cab and the smaller seats.
Delta is very excited about sitting on the bench seats in the back and looking out in all the directions. The 59K has nice panoramic views, and he's thrilled about it.
Mushy, well… Mushy doesn't like car rides. He absolutely hates getting in our Jeep and being taken on bumpy roads. He'll either hunker down on the ground or the bench seat, or scramble to try to hide underneath the gas and brake pedals. We're working on that. At least the van is, on the average, a smoother ride than the Jeep.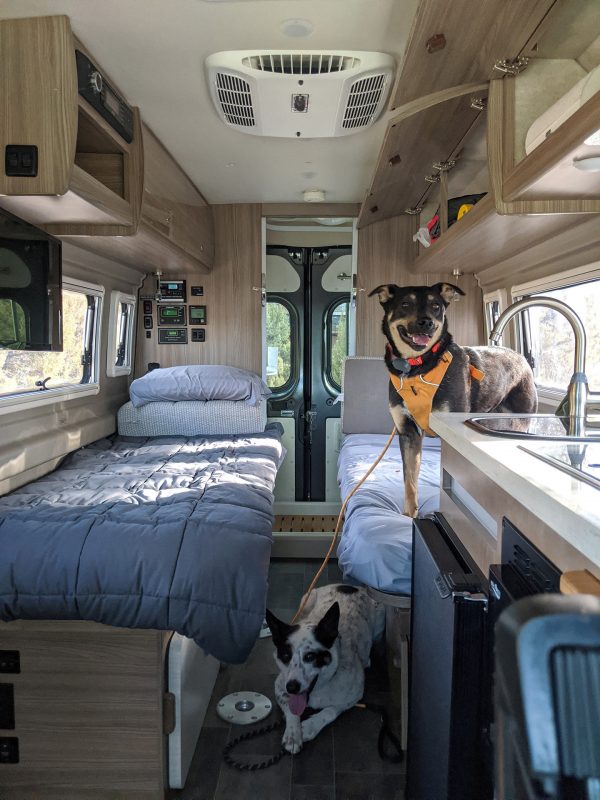 The boys might get harnesses that clip into the seat belts on the rear bench seat, to keep them away from trouble. We already own at least one such harness, we'll have to test that.
Looking forward to road trips
Given the current COVID-19 pandemic and its restrictions on tourism, we haven't had much chance for longer trips in the van yet. We definitely need to spend more nights on the road with all three dogs to see where everyone is going to sleep. Will they try to pile up on the beds with us, or settle to sleep on the floor? Is an aisle full of dogs going to be too much? What if we want to use the bathroom in the middle of the night? Will the Truma heat vents blow right into where they want to sleep, and will that be a good or a bad thing?
Do you travel with pets in a small rig?  Let us know your best tips in the comments below!
Ane and Tommi, F462447, of The Dog Is Driving love how RVing allows them to go on adventures with their rescue dogs: Mushy and Lily Goodgirl. They were full-time RVers for nearly three years before transitioning to part-time RVing. Read their experiences and campsite reviews through a pet-friendly lens on Instagram and TheDogisDriving.com.