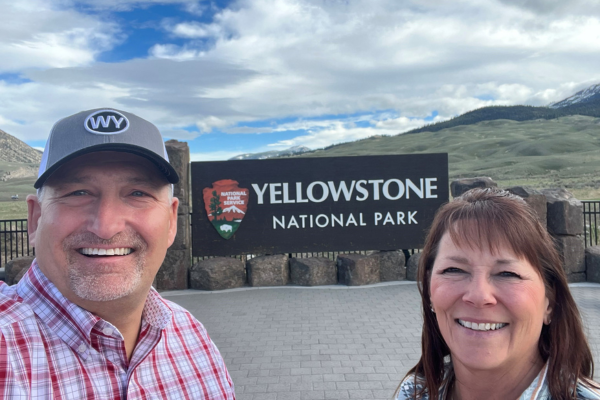 We started our journey to work camp in a national park the year we visited Glacier and Yellowstone national parks. We noted a consistent theme in both parks: they were shorthanded in the concessioner areas in and around the parks. This led to some restaurants not being able to operate during their normal working hours, or a simplification of menus. The tours were full and not able to meet the demand of guests who were coming to the national parks in record numbers. In fact, prior to our arrival at Yellowstone National Park, we received an email from the main concessioner stating they were cutting back on services and to bring your own food to the park.
We did book a dinner in advance with the only available reservation time of 8:00 p.m. While at dinner, we had an opportunity to ask our server about the shortages. She told us this was her second year working in Yellowstone and she didn't understand why more college-aged people or retirees weren't taking advantage of this kind of work life experience. She said the pay is decent for a summer job, and the benefits of working in a national park are amazing. Her eyes lit up as she described some of her awesome experiences while working in Yellowstone. Her excitement captured my attention and stirred something in me. So, when she walked away from our table, I said to the group, "I'm retired; why don't I do this?"
My wife, Teri, and I were in our first year of full-time RV travel, and I had recently retired. Teri works remotely, and that has allowed us to live this unique lifestyle. I began doing research regarding concessioners with positions in the national parks I had the most interest in spending a season in. I found a great website that helped me locate some of the companies: CoolWorks.com – Jobs in Great Places.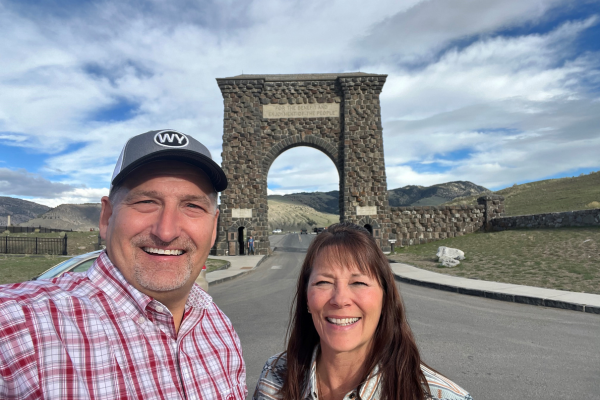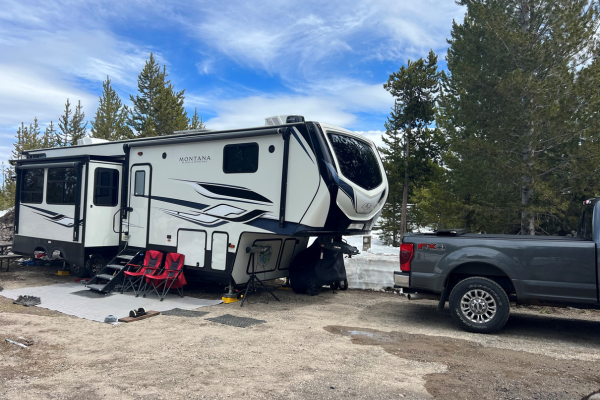 We narrowed our search to three national parks: Grand Teton, Glacier, and Yellowstone. I found the concessionaires that run the lodges, restaurants, and services within these three national parks. The following three companies had the most opportunities for work campers: Xanterra Travel Collection, Vail Resorts, and Delaware North. 
These companies have great job perks for their seasonal workers and year-round employees. I found that you can get retail and lodging discounts, meal plans for food and beverage, both dorm and RV spots for housing, planned trips and activities, medical insurance, a 401(k) savings plan, Employee Assistance Program, and in some cases sick leave. With Xanterra there is also a $350 employee referral bonus, so if you apply, tell them you heard about it from me!
I started my search for jobs in the national parks that I wanted to work and live in for the summer season. Start your search at least four to five months in advance of the season you want to work. For example, most of the summer season positions were posted in November and December. They are looking to fill lots of different types of positions, including the areas of human resources, retail, restaurant, camp hosts, security, housekeeping, maintenance, and much more. Just find what interests you and apply!
However, being an RVer can add an additional layer to what positions you will want to take. For example, at Grand Teton Lodge, the concessioner's policy is that only employees can live in the employee campground. So, for us this was a hard pass for our situation. At Glacier National Park, the obstacle I ran into was that they had run out of employee RV spots for the location they wanted me to work at, and living in the dorms was a hard pass. The position in Yellowstone National Park had an RV spot available, and Teri, a non-employee, could live in the RV with me as well. I figured this was a good thing after 37 years of marriage. I didn't know how I was going to tell her I was leaving her for an entry-level job. I quickly accepted the position at Grant Village in Yellowstone National Park and plotted our course there.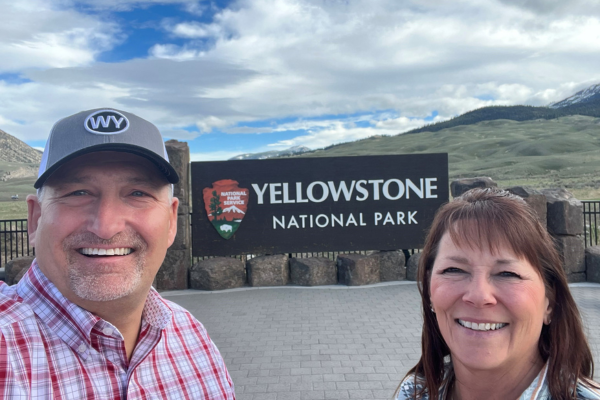 We arrived at West Yellowstone on May 7 and found that several feet of snow remained on the ground. This was a record spring for snowfall, but even in other years it is very common to still have snow in May at these high elevations. The following day we made the trek to Grant Village and went to our assigned RV spot, which was configured to fit a 40-foot fifth-wheel with full hookups. After five hours of shoveling snow and finding the utilities, we finessed our RV into the spot and settled in for the season.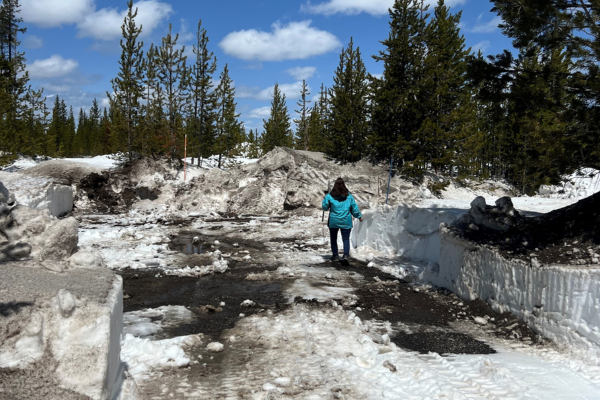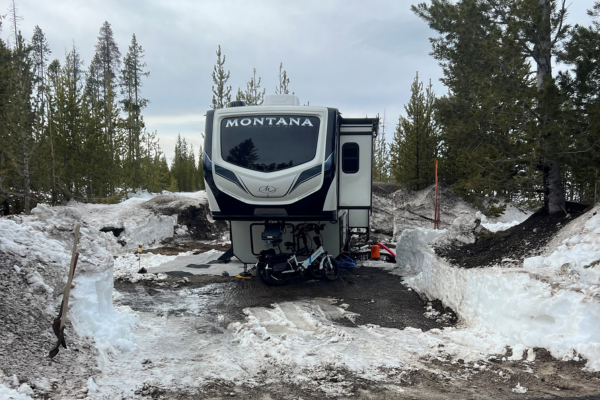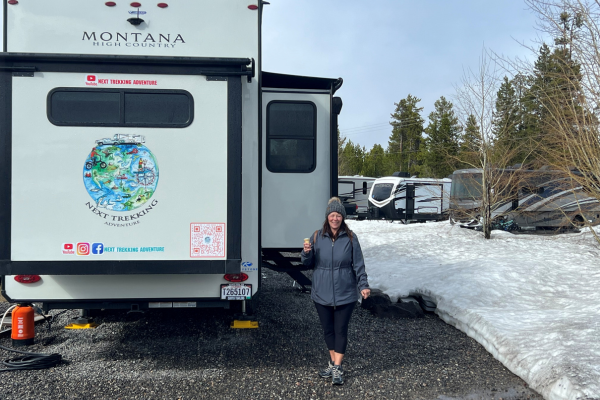 If this sounds horrific, well, let me tell you the perks. You are given a gate code to drive miles of roads visitors are not allowed on yet, and the animals use these roads to travel on to avoid deep snow. We were able to view a handful of grizzly bears up close from the safety of our truck and virtually all alone. If you would like to follow our adventure in Yellowstone, subscribe to Next Trekking Adventure on YouTube, Facebook, and Instagram.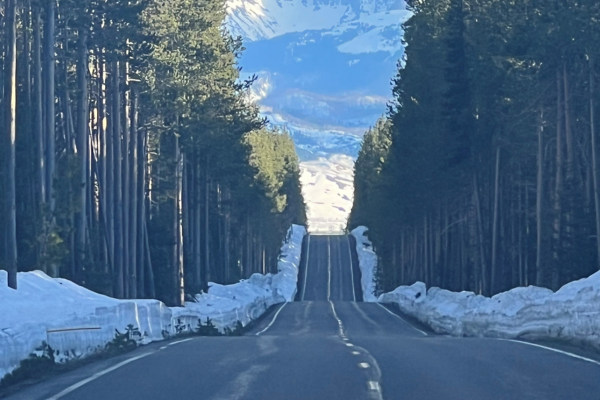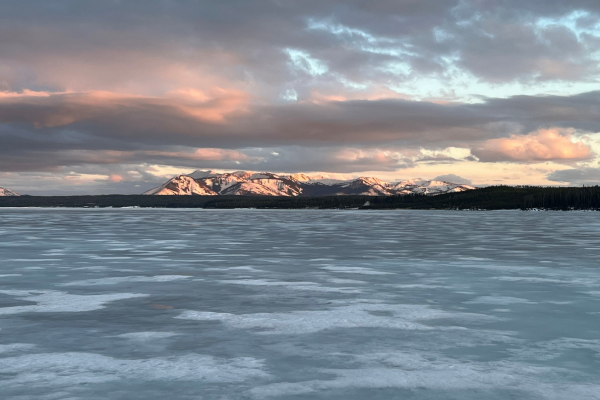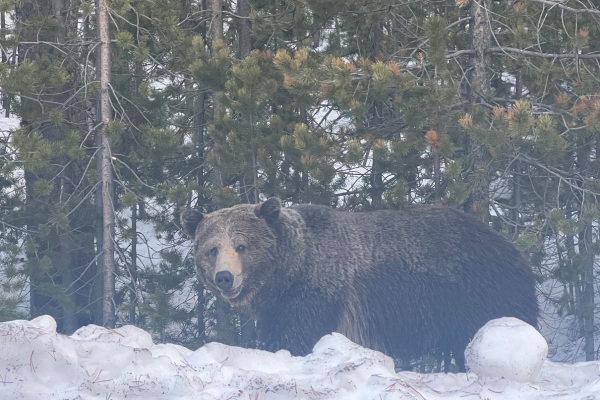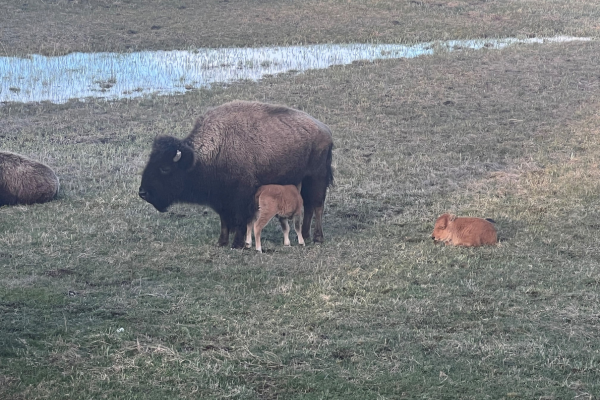 We are Mark & Teri Nisbett of Next Trekking Adventure, and you can find us on Instagram, Facebook, and YouTube. We are high school sweethearts who sold our bricks-and-sticks home of 30 years to travel full-time. We travel in our 2022 Montana High Country fifth-wheel, towed by our Ford F-350 Super Duty truck. We had a rough start to our full-time travel, as five weeks into our adventures we lost our RV to a fire at an RV park. But we didn't give up on our dreams of seeing the United States. We purchased a new fifth-wheel and pushed on with our RV life. We love sharing our adventures on our YouTube channel and can't wait to share our season of adventures in Yellowstone National Park with you.
YouTube,  Next Trekking Adventure Facebook, Next Trekking Adventure Instagram