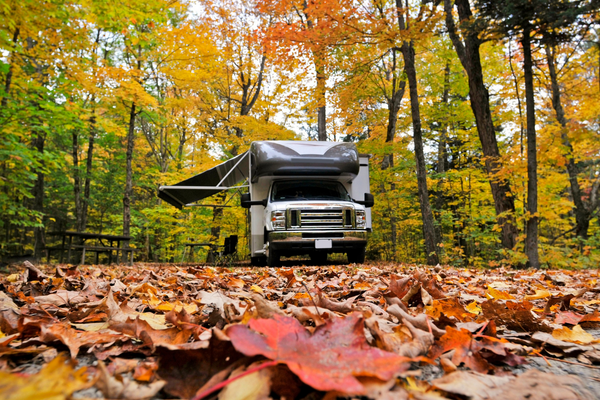 Leaf peeping, sweater weather, campfires, and get togethers—fall remains a favorite time of year for many RVers. If you're looking to hit the road, camp out under the stars, hike through a national park, and marvel at nature's blaze of orange and gold foliage, there's still plenty you can do at the end of autumn, even if you haven't started planning yet! RV Trader is sharing 10 places for a last-minute fall camping trip so you can take advantage of the cooler temperatures this season.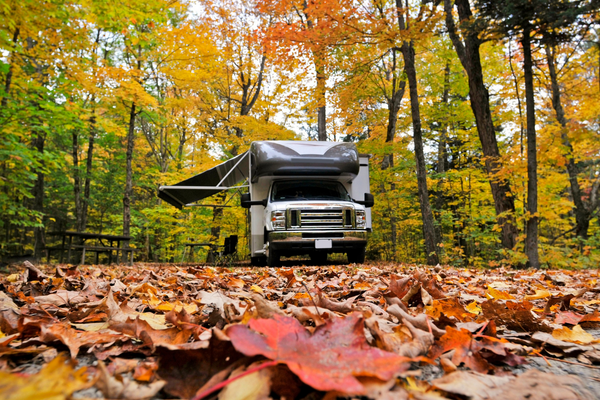 1. Amicalola Falls State Park — Georgia
The North Georgia Mountains are full of fall color even later in the season, which adds a dramatic backdrop to the 729-foot Amicalola Falls at this state park. Though not as famous as other nearby national parks, Amicalola isn't short on views, and has access to hiking at the nearby Appalachian Trail. There's more recreation to enjoy, along with dining, and fireside camping. However, it's worth noting that Amicalola Falls State Park accommodates smaller models of RVs versus larger vehicles, so plan accordingly for your quick RV trip.
2. Bar Harbor — Maine
Bar Harbor seems to have it all in the fall, giving RVers a chance to explore the mountains, stay by the ocean, or visit the charming small town. It's also a great way to get in a visit to Acadia National Park for breathtaking views and more outdoor recreation. Plan a hiking or boating trip while you're there, take a whale watching journey, and camp out under the stars for a blissful fall RV trip.
3. Hoosier National Forest — Indiana
RVers can travel through the hills of southern Indiana to this scenic destination situated in the Charles C Deam Wilderness. You'll catch the tail-end of the leaf peeping season in late November at Hoosier National Forest, with a canopy of colors and more outdoor scenery for nature lovers. As the leaves drop, spend a weekend camping in the forest and partaking in recreational activities like hiking and biking. Set up camp, relax, and listen to the breeze as it brushes against the trees for a peaceful autumn outing.
4. Niagara Falls — New York
Day trip or weekend getaway, Niagara Falls is exciting and scenic in autumn. RVers can find campgrounds near Niagara Falls State Park to see the famous Falls up close. Or, take a trip and visit the tourist town with a number of roadside attractions. Experience more of nature and the colors of Upstate New York along Lake Ontario with outdoor recreation like hiking and boating.
5. Redwood State Park — California
Redwood State Park can be a mesmerizing retreat for RVers during the fall, with a chance to see giant Redwoods as you explore in the forest with your vehicle. Home to the tallest trees on the planet, at night, you can look up through their branches as you stargaze. Some of these Redwoods are so massive you can drive a car through them—though maybe not your Class A RV. And cooler temperatures make this park even more inviting in the fall if you decide to hike and camp.
6. Plymouth — Massachusetts
What better way to celebrate Thanksgiving than a visit to Plymouth? Plan an RV trip this fall and see the famous Plymouth Rock, where the Pilgrims disembarked, and see a reproduction of the Mayflower ship in the dock. For larger vehicles, plan ahead and get a reservation at an RV campground. Or, make a road trip out of your adventure, and consider visiting Boston or the Berkshires for fall foliage.
7. Rocky Mountain National Park — Colorado
Colorado is one of the best states to take an RV trip, with mountain vistas, hiking and other outdoor recreation, and plenty of camping options. Rocky Mountain National Park provides RVers with campsites and full hookups, or scenic drives for shorter trips this fall. Just remember to dress for the weather as temperatures drop later in the autumn months in the mountains.
8. Sun Valley — Idaho
While many celebrities have made their stay in this resort city over the years, RVers are finding common ground to visit Sun Valley during the fall with camping and outdoor recreation. At this time of year, trees turn gold against the snow capped Sawtooth Mountains, which are known for skiing in winter, but offer opportunities for hiking with a view in autumn. RVers can relax with many nearby campgrounds with hookups, or find space to boondock in the great outdoors.
9. White Mountain National Forest — New Hampshire
If you're lucky, you'll catch the last of the fall colors in November at White Mountain National Forest. As the air cools off, you can still enjoy amazing White Mountain scenery from the peaks, as you hike your way through the forest. If you're feeling more adventurous, have a climbing excursion, go fishing, or biking in the park. Plan to camp while you're there or keep cruising down Kancamagus Highway on your fall road trip.
10. Willamette Valley — Oregon
Fall colors, cool air, fine wine—Willamette Valley in the Pacific Northwest might be at its best during the autumn. Through November, the region has a number of fall festivals and wine country celebrations at vineyards. If you decide to partake in the fun, plan for a little longer of a stay with a camping trip at an RV park. Spend some time outside and take a hike through the rolling hills at this destination.
It's not too late to enjoy an RV adventure this autumn! We hope this list of favorite fall destinations inspires you to make the most of the season and get in one more RV trip before winter sets in.

RVTrader.com is the industry-leading online marketplace for buying and selling new and used RVs, including Class A, B, and C vehicles, as well as campers and trailers. With over 200,000 recreational vehicle listings, RV Trader is a trusted resource for buyers nationwide. And with millions of site visits every month, no marketplace is more trusted to generate inventory exposure for dealers and private sellers. RV Trader is a division of Trader Interactive and belongs to the well-known "Trader" family of brands.