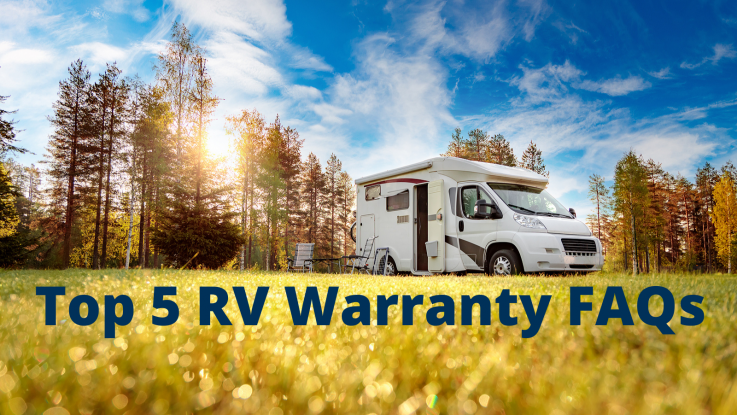 Curious about RV extended warranties? You've come to the right place! There is a lot to learn about this type of coverage, and with several pages of fine print, they can sometimes be tricky to understand. Understanding what warranties do and how they help you cover repair costs is worth diving into! In this blog, we'll go over the top 5 RV warranty questions that are asked by RVers. We hope that after you're done reading this article, you'll be motivated to add that extra layer of coverage and protection to your home-on-wheels!
1. "What Does an RV Warranty Cover?"
While most RVers are familiar with your standard comp and collision insurance, many struggle with how an RV warranty fits into the mix. A warranty is different from your insurance. Generally speaking, RV insurance covers bad weather, physical damages, collision, and accidents. RV warranties are an added protection package that covers electrical and mechanical component failures that your insurance won't cover. Ultimately, adding an extended RV warranty will ensure that your rig has financial protection against inevitable failures. In the event a covered component fails, your warranty will step in to pay for the costs to repair or replace that item. This coverage extends to both parts and labor, which can add up quickly. On average, the cost of labor can be upwards of $150 an hour.
Your coverage will also vary on the type of policy that you elect to buy. Generally, you can expect most warranties to cover the cost of repairs for mechanical or electrical failures your rig may face. This can range from your engine and transmission to coach items like heating and cooling units, leveling jacks, slide-outs, appliances, and more. The warranty will cover the labor and parts, while you cover the deductible. Choosing the right RV Extended Warranty is essential to getting the best bang for your buck, while still receiving the best customer service. Let's face it, RV failures are never fun, so finding a provider that will truly be there for you during that stressful time is paramount. Choosing from the right provider will ensure you are able to customize your policy that first your RV lifestyle and priorities, and travel with peace of mind.
2. "What Isn't Covered?"
It's important to have realistic expectations for your coverage. Not everything will be covered under a warranty. There are excluded components and causes of failure for every single policy on the market. Generally speaking, failures due to physical damage and anything caused by weather or accident will not be covered. Next, warranties will never cover aesthetic items, like paint, upholstery, windows, flooring, etc. Lastly, anything considered a maintenance task or item will be excluded by your policy. This includes things like oil changes.
3. "What are the eligibility requirements?"
This will vary for different providers. There is a standard for all warranty companies on the eligibility of motorhomes. On average, motorhomes need to be below 100,000 miles to cover the powertrain, and below 125,000 miles to cover coach-only components. Additionally, full coverage is usually offered for motorhomes aged 15 model years and newer, with powertrain only coverage available to vehicles aged 16 – 20 model years old. Eligibility changes happen every year as your RV ages. Remember, with every model year that your rig ages, and every mile you travel, the less coverage will be offered. This is why its so important to lock in your rate early on.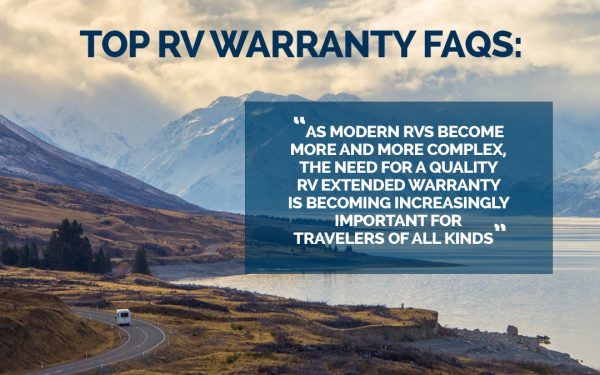 4. "Do I Really Need an RV Warranty?"
The answer to this is personal to every RVer, but with the current cost of repair, many travelers are leaning toward yes! No matter how new or old your RV is, it will need a repair at some point. This is inevitable, your rig will break down. As modern RVs become more and more complex, the need for a quality RV extended warranty is becoming increasingly important for travelers of all kinds. When you have added coverage in your back pocket, you can drive and travel with peace of mind. Based on RV warranty claims records, more than 3 out of every 10 RVs will need major repairs in only their second year on the road. This skyrockets to 8 out of 10 in their fifth year, and virtually ALL of them in their eighth year. The financial protection an RV warranty offers can be a huge help toward keeping you on the road, enjoying your adventures.
5. "Once I've purchased my extended warranty and I need to file a claim, what is the process?"
While this will vary by provider, the claims process should be simple and easy. Ask about how this works when you're shopping for a warranty and use the answer to help you determine the value of the policy you're looking at. A reputable company should have an RV Warranty Specialist that will happily guide you through it! This process should usually be three steps:
Bring Your Vehicle In: Try to find a policy where you may take your Recreational Vehicle to any licensed repair facility in the U.S. or Canada. You don't want to be stuck taking your rig to a specific shop or set of shops when you're out on the road!
Get Pre-Authorization: Have your repair facility diagnose the problem, and contact your RV Warranty company to get pre-authorization on any required repairs before repairs actually begin. Without a pre-authorization, your claim will not be covered!
Be on your way! Pick up your RV, but not the bill—that goes to your warranty company. All you'll need to take care of is your deductible! When shopping, be sure to find a plan that pays directly to the repair facility via corporate credit card. This way, you won't have to dip into your savings and wait (often months) to be reimbursed!
There you have it: the answers to five of the most commonly asked questions on RV warranties. We hope this information is helpful as you continue your RV protection education. Do you have any other questions that were not answered? Ask them in the comments and we will answer them! 
This blog was provided by our partners at Wholesale Warranties (C012133).