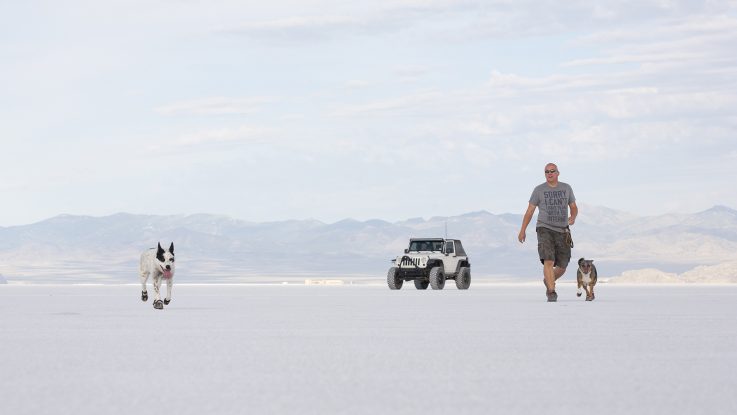 When people think of RVing in Utah they tend to think of the "Mighty Five" National Parks: Arches, Bryce Canyon, Canyonlands, Capitol Reef, and Zion.  But what about exploring these Utah parks with dogs? Having been to most of them, we can attest they are phenomenal, but like most national parks, they're not the friendliest when it comes to bringing your dog along.
We've been on the road for 2.5 years now and have visited 12 states. For most, that's probably a snail's pace, but we like to spend a lot of time in areas we like.  Our favorite state so far is — as you may have guessed at this point — Utah.
Below we'll share our favorite dog-friendly Utah adventures — including two in the "Mighty Five" that we enjoyed with our dogs!
Bonneville Salt Flats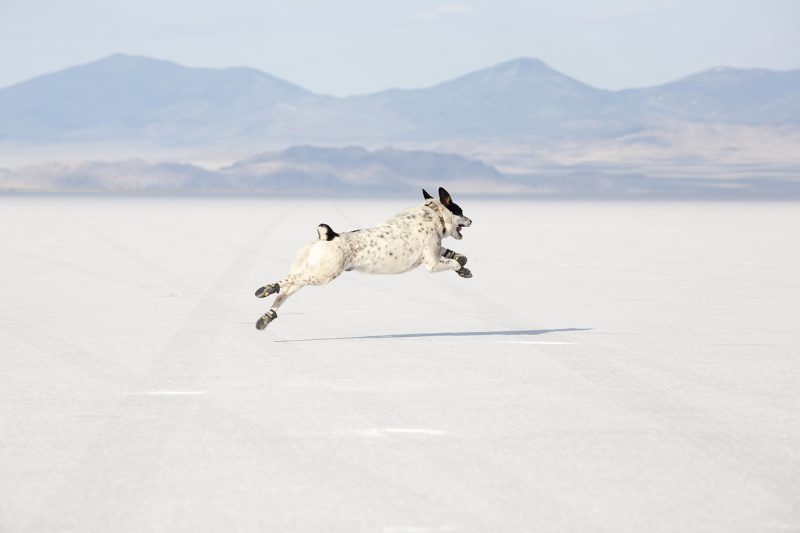 Zoomie heaven!  Located in northwestern Utah on the Nevada border, the Bonneville Salt Flats were like nothing I had ever seen, and nothing Mushy had ever experienced.  We visited in June 2018 and, as you can see from the photo, the crust was perfect for zooming.  He attempted to set a new land speed record and had a blast bouncing around here. Normally, I'm hesitant to let Mushy off-leash because he's so fast and doesn't have the best recall. Here, there was nothing to worry about. In fact, 30,000 acres of nothing to worry about!
Things to consider if you go with your pets: Check the weather before your visit. It can get extremely hot.  We chose to have our dogs wear their booties when visiting because the salt crust is hard, abrasive, and sticks to everything. The salt flats can also flood, so make sure to do a little research on conditions before making the trip.
Boondocking Tip:  The salt flats are managed by BLM, and there's some great free camping at the base of the mountains! (No camping allowed on the salt flats themselves.)
Dead Horse Point State Park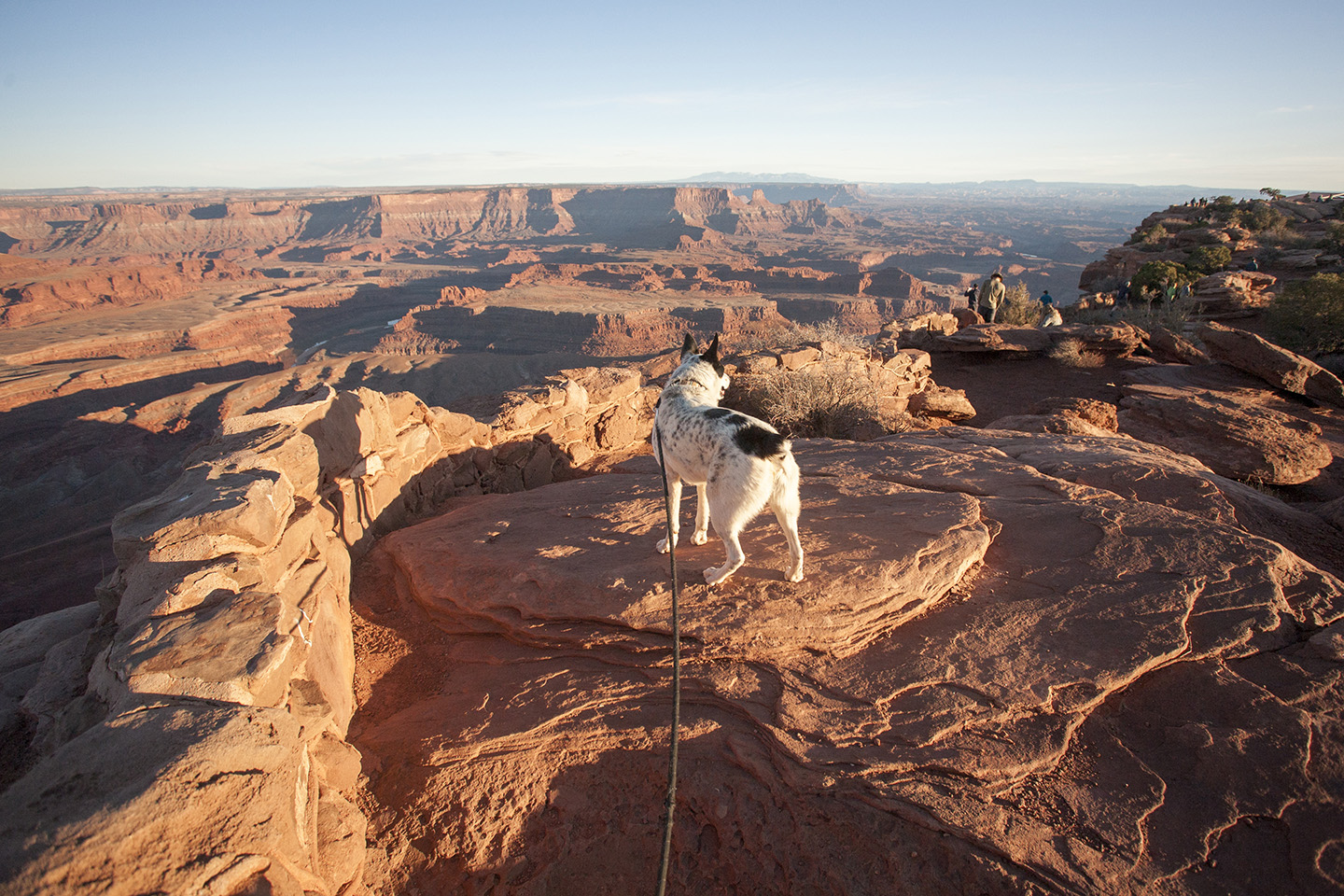 Visiting Moab?  You have to visit dog-friendly Dead Horse Point State Park. 10/10 Mushy would recommend. He honestly seemed to love the view and had a great time climbing on the natural plateaus and rocks that make up this overlook. There is an admission fee of $20 per car.  A steep price, but if the sky is clear it's spectacular!
Pro-tip: The best time to visit is at sunset.  Arrive early and do some hiking.  Pack some food and drinks for you and your pets, and enjoy a few hours at this magnificent place!
Corona Arch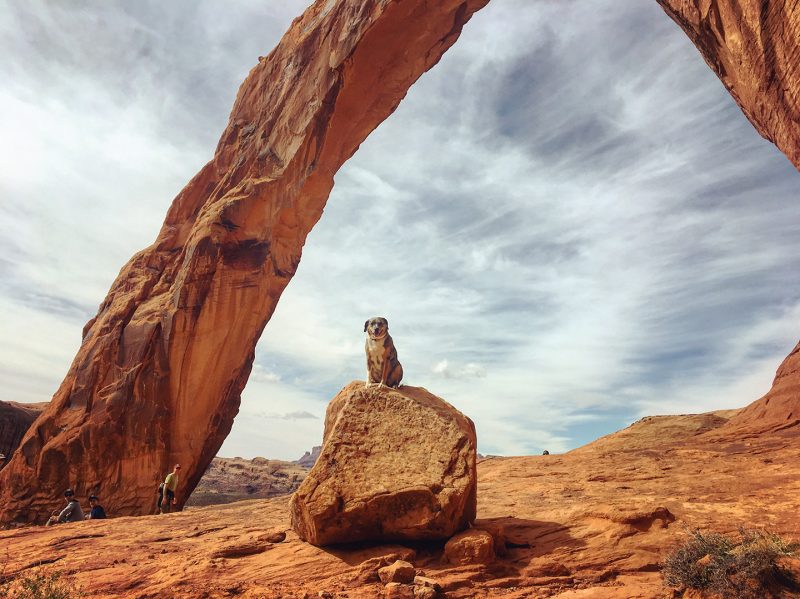 At 105 feet tall, it was hard to get the entire arch in the photo!
Arches National Park is not very dog-friendly. We didn't even bother driving through it with Mushy and Lily. But just 11 miles down the road is the Corona Arch Trail — a 3-mile roundtrip dog-friendly hike to one of the most spectacular arches in Moab!
Warning:  There's one part of this trail that is a very steep section of slick rock.  We let Lily and Mushy off-leash to scramble up it, and with a little butt-pushing they got up. If your dog is older or has mobility issues, you'll want to stop before that section.  The good news is, you can still see Corona Arch from there!
Kanarraville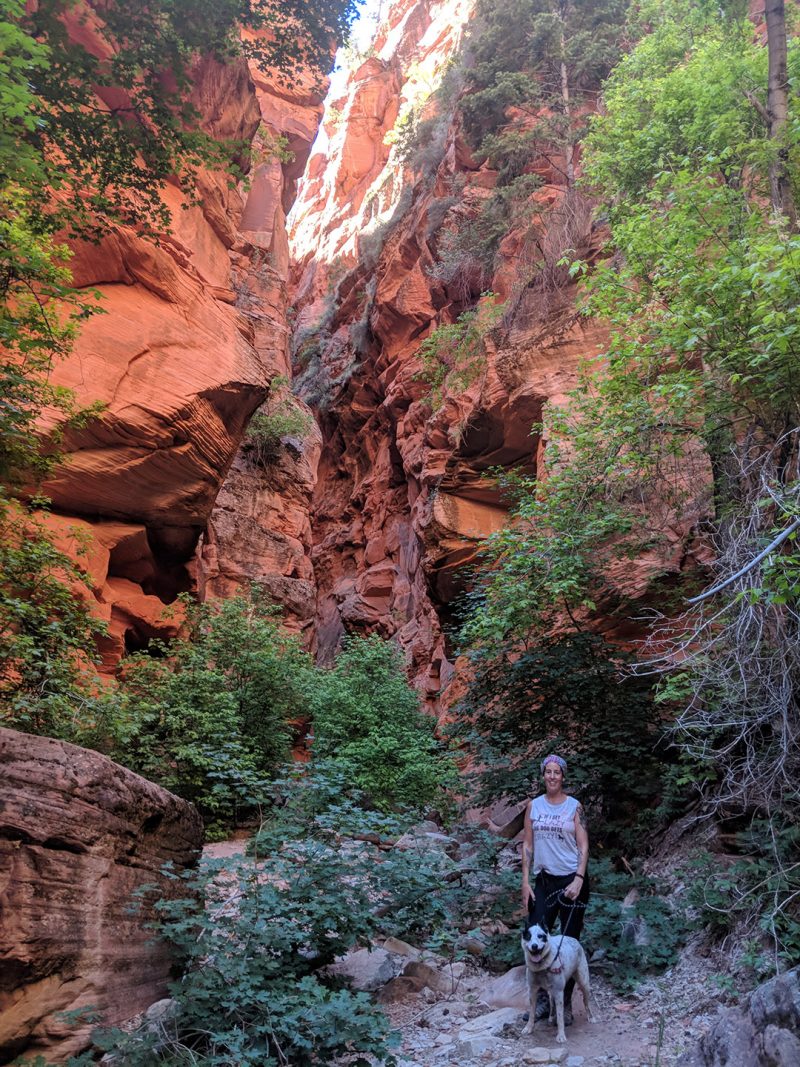 Kanarraville, Utah, is a tiny town of roughly 350 people, located just south of Cedar City off Interstate 15. The hike it's best known for doesn't allow dogs (and has actually become so popular they instituted a fee-based permit system). But the good news is there's another wonderful hike on the south side of town that is dog-friendly: Spring Creek Canyon. Our dogs had a blast crossing streams, chasing lizards, and exploring a slot canyon.
Where to stay: We love Red Ledge Campground. Read all about our stay there and more information about hiking in the area in this post. On the first day, tire your dogs out with a hike in Spring Creek Canyon, and then leave them behind (weather permitting) in the RV while you hike to Kanarra Falls!
Red Canyon
Most people may not even get out of the car as they drive through Red Canyon on their way to Bryce Canyon National Park.  If you want to explore Utah with your dogs, pull over!!! Trust us, this area is dog heaven.
Red Canyon is part of Dixie National Forest, so dogs are allowed on all trails.  Our favorite hikes in this area are the Golden Wall Trail and Thunder Mountain Trail. The visitor center has a nice little loop behind it as well if you're limited on time — and don't forget to take a photo with Smokey the Bear, who you can find standing just next to the Red Canyon Visitor Center sign!
Pro-tip: Read more about dog-friendly adventures in Red Canyon here.
Goosenecks State Park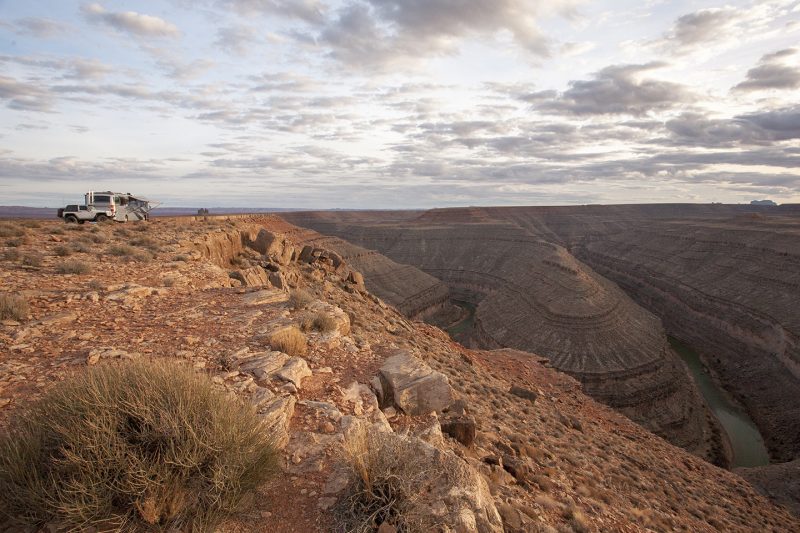 I tried to find a photo that captured the grandness of this canyon, the San Juan River below and a dog, but I couldn't! The scale is just too enormous. But how cool, right? Goosenecks State Park is dog-friendly and for $10/night you get to park right on the edge of the canyon, overlooking the San Juan River 1,000 feet below.  Just remember to keep those pets leashed and away from the edge!  
Pro-tip: If you have a vehicle that can handle it, there's an awesome hike nearby that will give you and your dogs a workout and get you down to the sandy shore of the river below.
Forrest Gump Point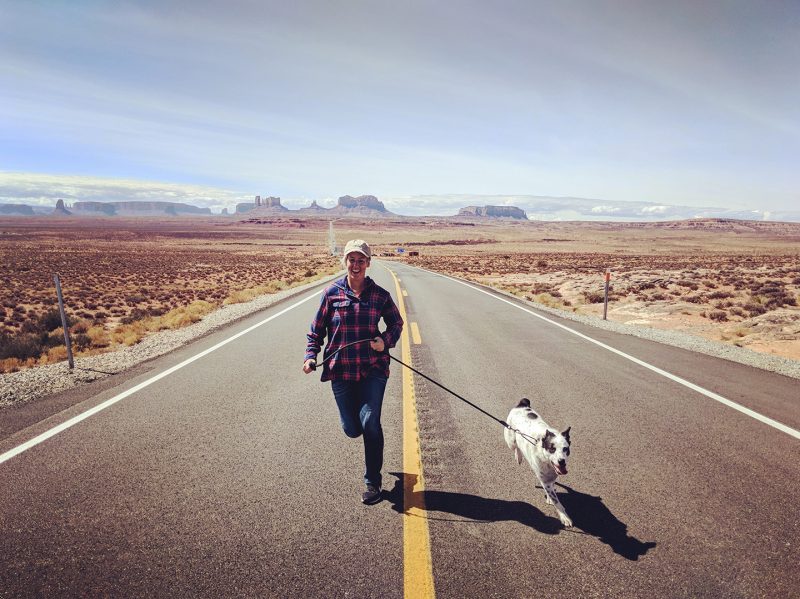 Utah bucket list item?  For me — YES.  Tommi? Not so much… but he was a good sport and let me run up and down the road with Mushy, reenacting our own Forrest Gump moment, as he snapped photos.  Located on Highway 163, you'll know you're in the right spot when you see all the other tourists carefully choosing when to run into the middle of the road to get their Forrest photo. Or, you can just look for Mile Marker 13.  Mushy had no clue what we were doing, but he's always up for a run!
Disclaimer: This photo wasn't at exactly Mile Marker 13… our 38′ class A and Jeep wouldn't fit with all the other cars parked there!
Bryce Canyon National Park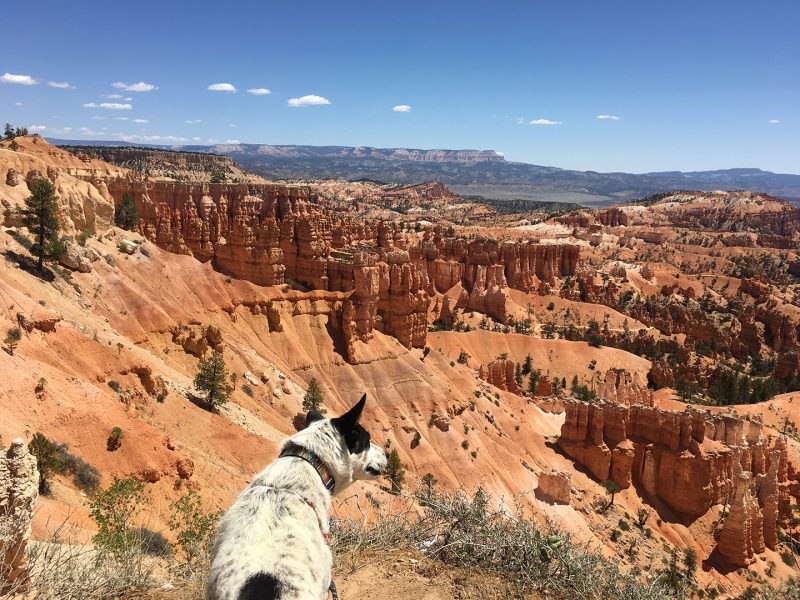 Like most national parks, dog adventures at Bryce are limited, but there are a few things they can do.  Our favorite dog-friendly experience was to walk the paved trail between Sunset Point and Sunrise Point — 1.2 miles round trip. You'll get great views of the amphitheater from this trail. Dogs are also allowed on the shared use path between the park entrance and Inspiration Point. We also took the dogs on our driving tour of the rim — an 18-mile drive that ends at the park's highest elevations, Rainbow and Yovimpa Points. Pups are only allowed on paved areas though, so they either stayed in the car or got out only very briefly.  No hiking options for dogs along this route, unfortunately.
 
Where to stay: Our favorite boondocking spot is 30 minutes from Bryce in Dixie National Forest! See Red Canyon above for info on the general area.
Kodachrome Basin State Park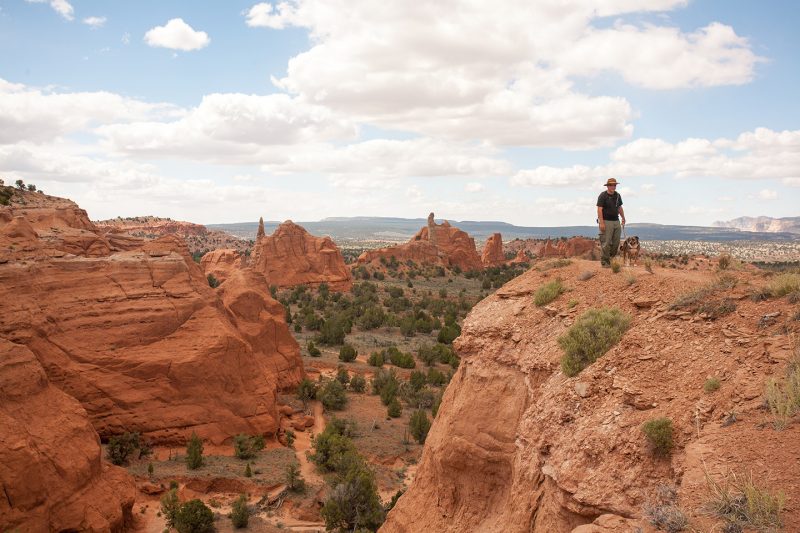 Another state park for the win! (Seeing a theme here? Thanks for being so dog-friendly, Utah State Parks!) The entry fee of $8 per car is well worth the amazing adventure day you will have with your dog.  Make sure to bring your camera, as it's named Kodachrome for a reason! (Am I dating myself by that reference? Probably! I grew up way back when cameras used film).
Zion National Park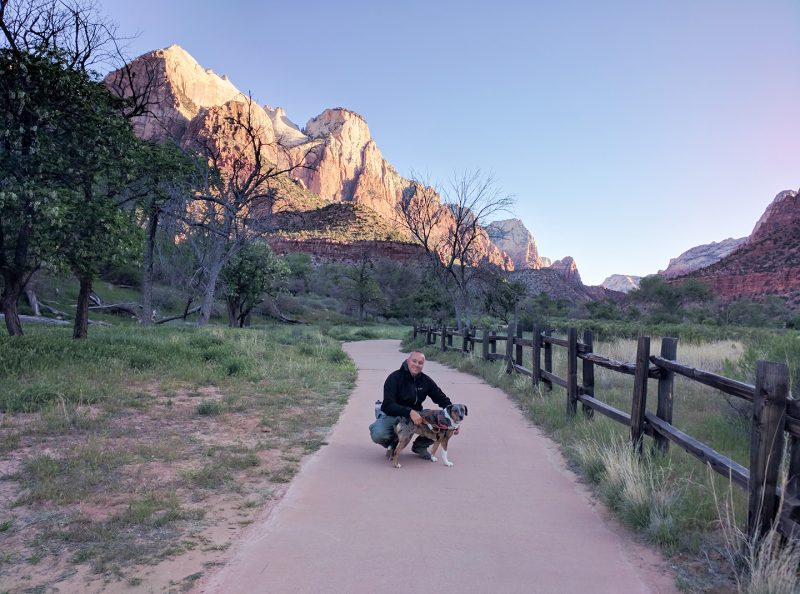 The only trail that dogs can use in Zion National Park is the Pa'rus trail.  We visited in April,2017 and beat the crowds by entering the park just after 7 a.m.  The trail is paved and meanders through the valley floor past campgrounds and over the Virgin River.  It's 3.5 miles round-trip and is an easy, leisurely stroll your dogs are sure to love. Ours did!
Pro-tip: Get there early to complete your walk and leave as the crowds arrive.  Exit the park and enjoy a dog-friendly breakfast at one of the restaurants with outdoor seating!
Muley Point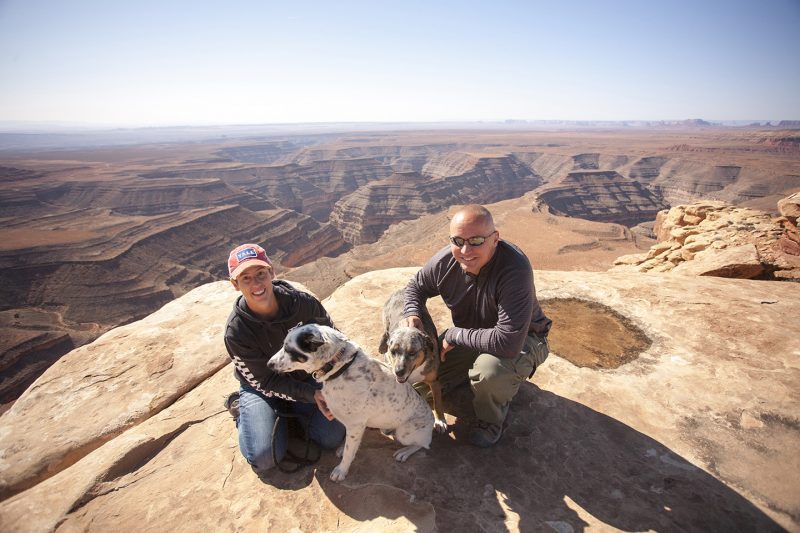 Let me say this up front:  To get to Muley Point you drive on the Moki Dugway, a dirt road with 11% grade and sharp switchbacks, which has been called one of Utah's most dangerous roads.  But the view from the top is worth it!  You'll see the San Juan river, Valley of the Gods, and Monument Valley far in the distance.  Pack a lunch and hang out for the afternoon! (And keep a tight hold of your pets!)
Red Hollow Canyon, Orderville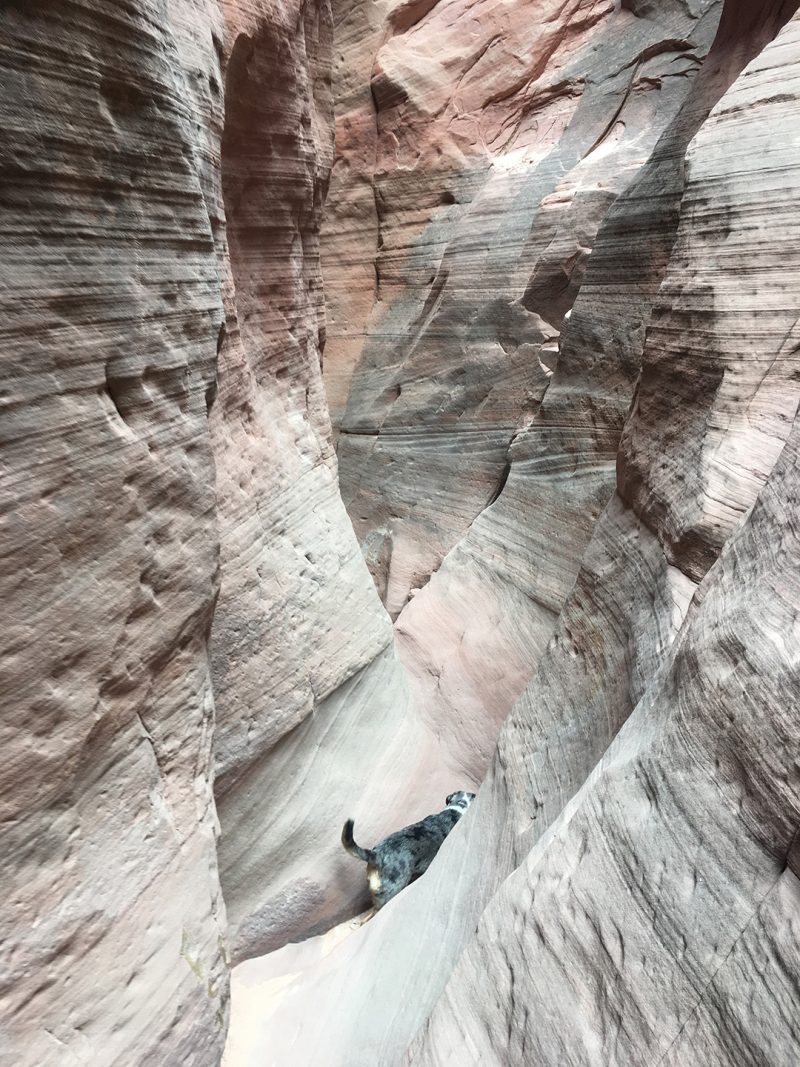 There is just so much to explore in Utah.  This slot canyon isn't famous. In fact, it was just a nearby hike on a map, close to our campsite.  This was Lily and Mushy's first slot canyon and THEY LOVED IT.  Better yet, I could let Mushy off leash because really… where's he gonna go?
Honorable Mention:  Best Friends Animal Sanctuary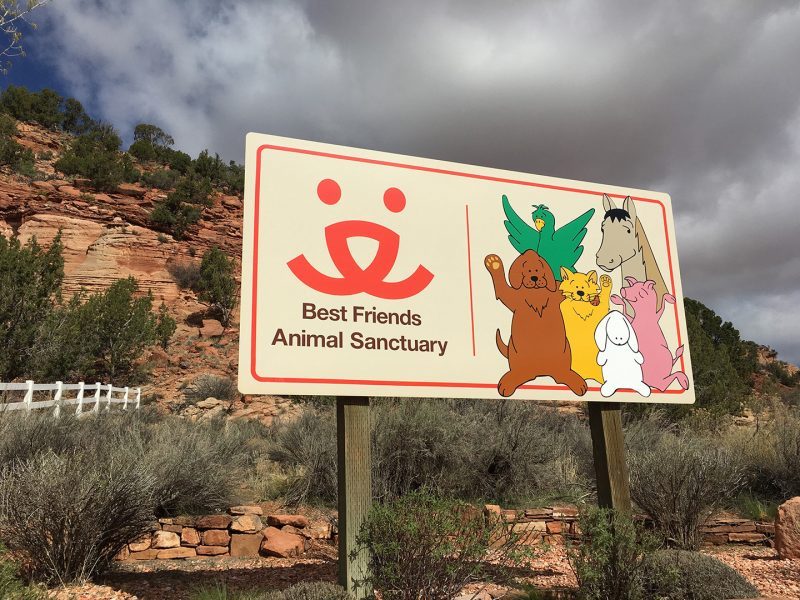 For animal lovers, Best Friends is a MUST STOP. It's essentially a dream vacation. I'm putting it in the honorable mention spot, because it's a bit tricky to get the full experience in just one day if you're visiting with your own animal, as personal pets are not allowed in any of the animal areas, nor are they allowed to remain unattended in vehicles. That means you'll miss out on the 2-hour free shuttle tour, eating their amazing daily $5 vegan lunch buffet, and volunteering with the sanctuary animals (all of which I HIGHLY recommend).
If you have more than one day, you have more options! You can stay on their property in a cottage, cabin, or one of their two full hook-up RV sites! Your personal pets ARE allowed to remain unattended if they are well-behaved and are not destructive.  That would allow you to get the full experience, but plan ahead as they book up!
The sanctuary's property borders on BLM land which has a few great hikes that are dog-friendly, one of which you can read about from our visit in April, 2018.
Utah with Dogs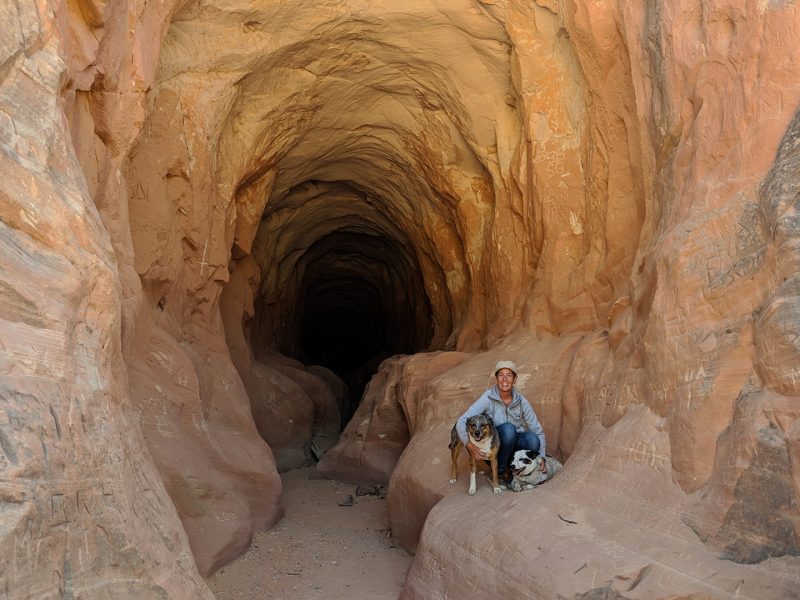 Mushy and Lily love Utah. Do you love Utah, too?  Leave a comment below with your favorite dog-friendly thing to do in the Beehive State!
Meet the Family

Ane and Tommi, F462447, of The Dog Is Driving love how RV life allows them to go on adventures. And they bring along their rescue dogs: Mushy and Lily Goodgirl. Full-timers since 2016, they share their experiences and review campsites through a pet-friendly lens on Instagram and TheDogisDriving.com.