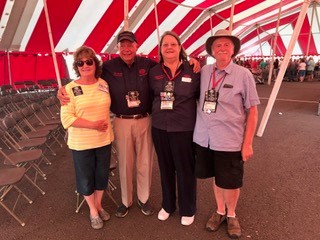 Hello! As I begin my adventure of serving as FMCA national president, I'd like to invite you along for the ride.
My wife, Sondra, and I will begin by crisscrossing the country and participating in as many FMCA activities as we can.
We already have met new friends at the Northeast Area Rally in Syracuse, New York, this week. I'd like to introduce you to Elinor and Bob Townsend, F130323. We had a great conversation concerning the activities of the Yankee Travelers chapter, which Bob serves as president. Last night we spent an enjoyable evening meeting all of the volunteers who are going to make the 2017 "See You in Syracuse" rally so great.
Most of the rally events are going to be held in this huge red-and-white tent where these photos were taken.
Tomorrow morning we will wake up to delicious doughnuts and fresh, hot coffee. The Frustrated Maestros-NE, Yankee Doodle Dandies have been practicing and will start their music bright and early tomorrow. Looking forward to begin a great week in New York. Wish you could join us!
Please check back here for new posts and follow along on our journey! I wanted to begin this blog to share our story with all FMCA members. Feel free to share thoughts with me anytime – [email protected]

[ngg_images source="galleries" container_ids="1″ display_type="photocrati-nextgen_basic_thumbnails" override_thumbnail_settings="0″ thumbnail_width="240″ thumbnail_height="160″ thumbnail_crop="1″ images_per_page="20″ number_of_columns="0″ ajax_pagination="0″ show_all_in_lightbox="0″ use_imagebrowser_effect="0″ show_slideshow_link="0″ slideshow_link_text="[Show slideshow]" order_by="sortorder" order_direction="ASC" returns="included" maximum_entity_count="500″]