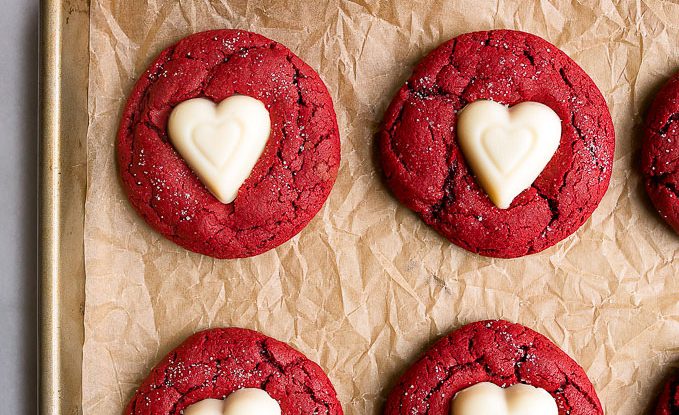 Valentine's Day is a day to spend with the people you love. What better way to show someone you love them than by baking them some Valentine's Day treats? Check out these Red Velvet Sugar Cookies for a sweet treat for your valentine.
Red Velvet Sugar Cookies
Serves 6
Ingredients
4 tablespoons unsalted butter, melted
1/3 cup granulated sugar, plus extra for rolling
1 large egg yolk
1/2 teaspoon vanilla extract
1 teaspoon red gel food coloring
1/2 cup + 1 tablespoon all-purpose flour
2 tablespoons unsweetened cocoa powder
1/4 teaspoon baking soda
1/8 teaspoon fine salt
6 white chocolate peanut butter hearts (like Reese's)
Instructions
Preheat the oven to 350, and line a small baking sheet with parchment paper (or use a silicone mat).
Stir together the melted butter, sugar, egg yolk, vanilla extract, and red food coloring. Stir very well to combine.
Next, sprinkle the flour, cocoa powder, baking soda, and salt evenly over the dough, and stir just to combine.
Press the dough flat and evenly in the bowl, and then divide it in half by eye. You should get 3 cookies from each half.
Roll each dough ball in your hands, roll lightly extra granulated sugar, and then space evenly on the prepared baking sheet.
Bake for 10-12 minutes, until they spread, start to crackle and appear dry on top.
Let the cookies rest on the baking sheet for 2 minutes before moving them to a wire rack to cool completely.
After the cookies have cooled for 10 minutes, press a white chocolate heart into the center of each cookie. Move the cookies to the fridge (so the hearts don't melt too much) to set for 30 minutes.
Bring to room temperature before serving.
Nutrition Information
Amount Per Serving: CALORIES: 724 TOTAL FAT: 48g SATURATED FAT: 30g CHOLESTEROL: 122mg SODIUM: 985mg CARBOHYDRATES: 79g SUGAR: 67g PROTEIN: 3g
FMCA shares RV-friendly recipes and kitchen tips in our e-newsletter, The Mile Marker. Click here to get recipes like this (plus more!) delivered to your inbox monthly.