Southwest Salsa Recipe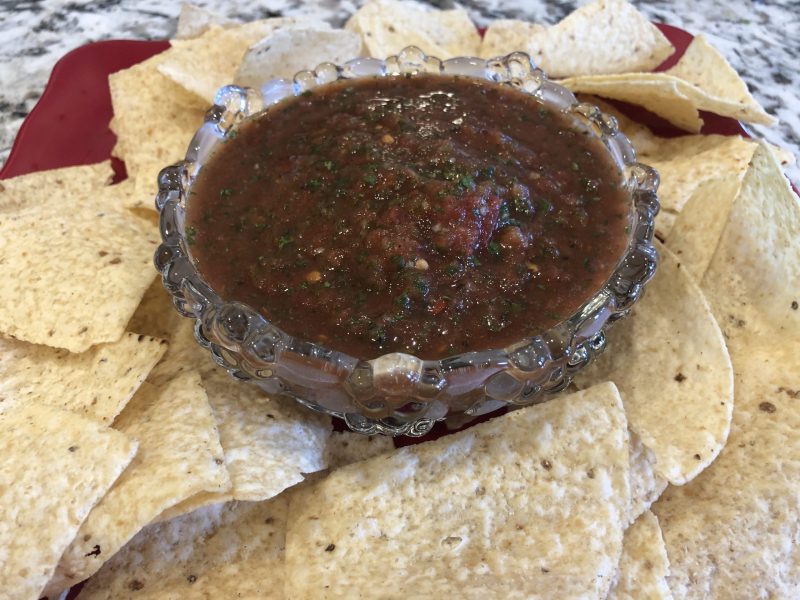 As you know, salsa is an important part of any Mexican cuisine. It's the first thing placed on the table in just about every single Mexican restaurant.  When we can't go out to a good restaurant, we resort to making our own.  Our dear friend Cathie makes an amazing restaurant-style salsa. While her recipe is top secret, I managed to find one that's pretty close which I will share with you. 
This recipe uses a food processor.  A blender will probably work but the food processor really does a great job.
Ingredients
6 green onions, white ends only
1-2 jalapenos
1 handful cilantro
1 Tablespoon minced garlic
Juice from one lime
14.5-ounce can fire-roasted diced tomatoes
14.5-ounce can whole tomatoes
1 teaspoon salt
1/4 teaspoon cumin
My Process
I start by rinsing the cilantro well. Next, I pat it dry with a paper towel then let it sit to finish drying while I get the rest ready. This is my own quirk, I know, but my husband Mark isn't a cilantro guy so I need to make sure it is totally and completely pureed so he can't see big pieces of it.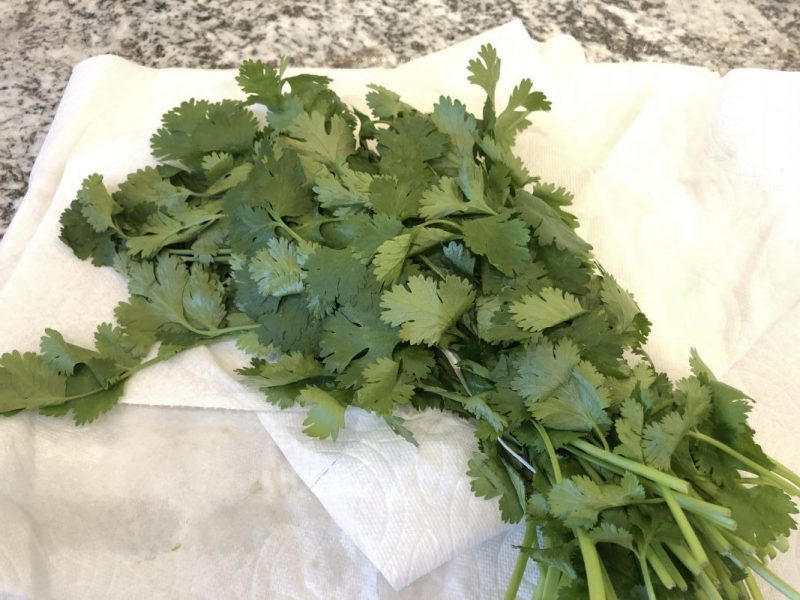 Next, I seed the jalapenos and cut them in big chunks.  I love them but while I'm cutting them my lungs do not.  I used three for this particular batch because they were small.

Now that the hard part is done, let's make salsa!
Cut the white bulb from the bottom of the green onions and toss them in the food processor. 

Then add the chopped jalapenos, cilantro, and garlic.  We like a lot of garlic so I use a tablespoon but you can use as much or as little as you like.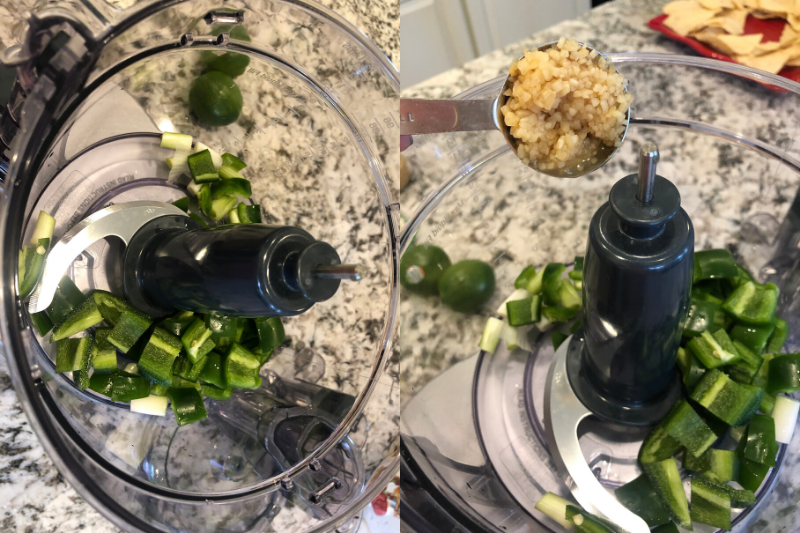 Pulse in the food processor until it's very finely chopped like mush.  You might need to scrape down the sides a few times during this process.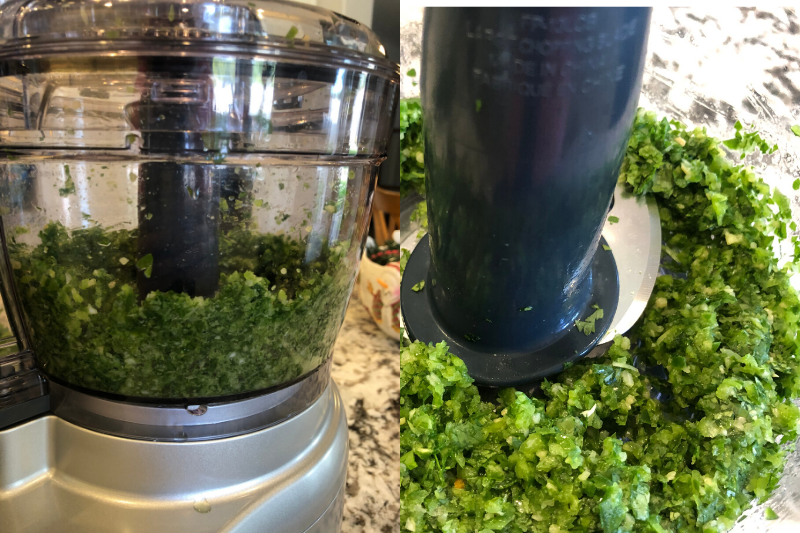 Add the cans of tomatoes (juice included) along with the salt, cumin and lime juice.  Pulse until blended.

Store any leftovers in a sealed container.  We like it as a salad dressing for taco salad.  I also use it on top of chicken breasts in the crockpot when I need shredded chicken.  You can freeze it, too, but it will be a little watery when defrosted.  I solve that by pulsing it in the food processor with another small can of diced tomatoes.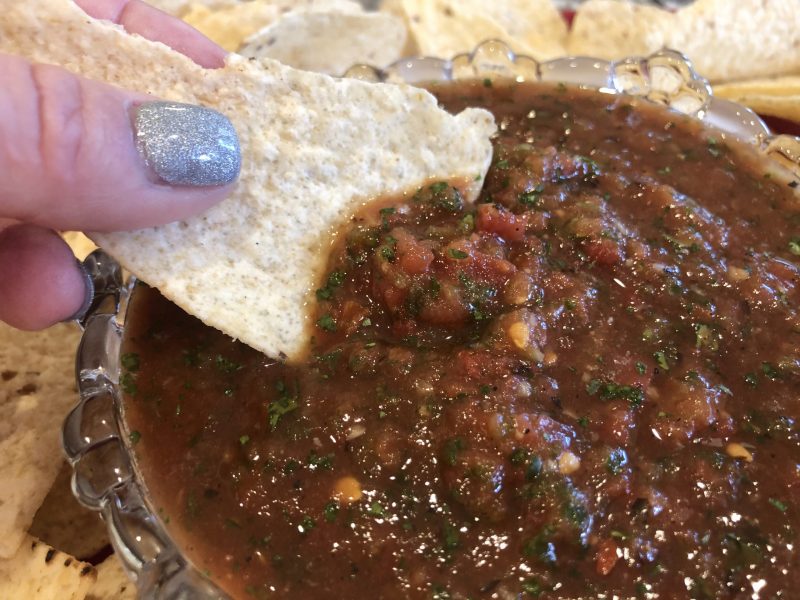 Directions
Rinse cilantro and pat dry. 
Seed and rough cut the jalapenos.
Place onions, jalapenos, garlic and cilantro in a food processor. 
Pulse until very finely chopped.
Add both cans of tomatoes, juice included. 
Add salt, cumin and lime juice. 
Pulse until liquid.
Refrigerate for a couple of hours to allow the flavors to blend. 
Serve with warm tortilla chips.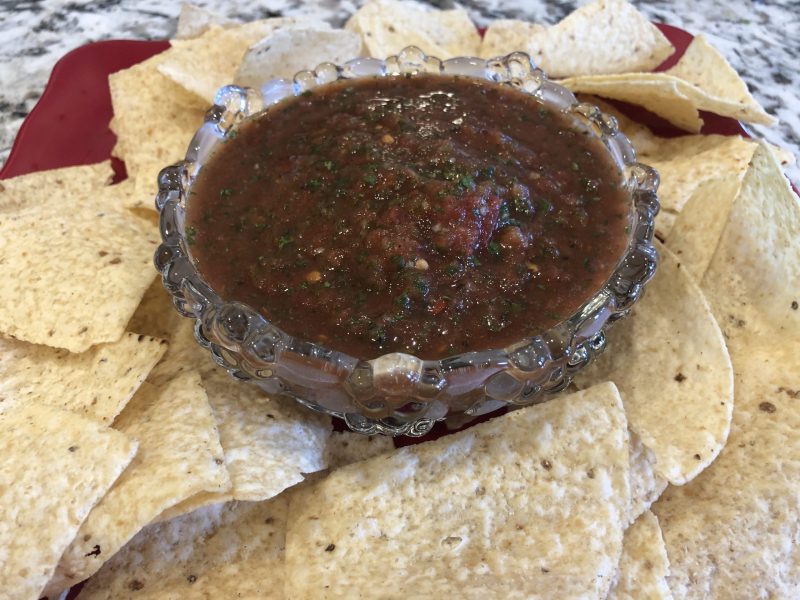 We hope this salsa recipe will help satisfy your southwest flavor cravings until you get the chance to travel to Tucson and experience it firsthand!